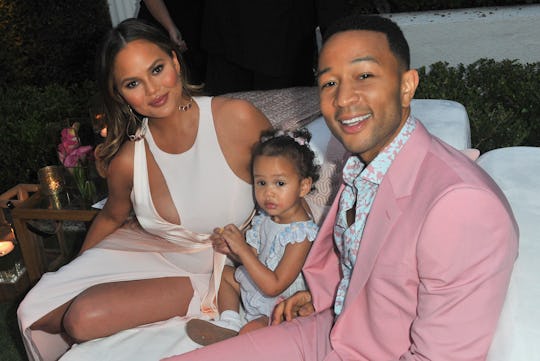 Jerod Harris/Getty Images Entertainment/Getty Images
Chrissy Teigen Trying To Get Luna To Smile In This Photo Is Every Feminist Mom
Navigating the world of social media with little kids is a challenge, especially for moms who are contentious of their children's autonomy over their bodies, and their right to be or not be photographed. While many moms do not force their children to take pictures if they don't want to, the line between what's disrespecting them and what's just being a mom trying to document a sweet moment is, well, blurry. And Chrissy Teigen trying to get Luna to smile in this new photo with baby Miles is every feminist mom's inner monologue... but just as funny as Teigen always is.
On Monday, Teigen posted a photo of herself holding her son Miles and gazing down at her daughter, Luna, who is looking sternly at the camera. She captioned the post: "Luna. Luna please. Luna one smile. Please for mama. Okay that's fine you don't have to. Don't listen to people that tell you to smile. But please can you smile. No it's ok never mind. Maybe one smile?"
Moms who are fans of Teigen's immediately started commenting on the post, affirming that they can totally relate to the struggle of trying to get a nice photo with their kids. "Totally understand kids it has to be on their terms... most bribe with treats," one comment read. "Yep my daughter won't smile either! Poses sometimes, but won't smile," said another.
This is not the first time that Teigen has posted about the struggle of taking photos with both of her kids. In July, E! News reported Teigen posted a photo of herself holding both Luna and Miles, noting that it was difficult to get one where everyone looked good. "Should I post the one where his head looks unsupported but my face looks good and Luna is over it, the one where his head is supported but my face is just okay and Luna is over it, or him crying and my face looks okay and Luna is over it?" she wrote.
Most recently, however, Teigen sent her entire fandom into chaos when she posted the most adorable family photos from her and John Legend's recent trip to the zoo. (See? It's totally possible to get some good ones... as long as they are candid, it seems.) Yahoo! reported that the family visited the zoo this past weekend, and got some amazing videos of Luna calling an alligator "mama," and the entire family screaming as an unidentifiable animal climbs onto Legend's back. "No idea what animal this is but I love it," Teigen wrote on the post.
Despite all the laughs, Teigen knows she has to learn, and is comfortable figuring it all out along the way. In an interview with The Cut, she opened up about whether or not she sees herself as a role model, and why it's so important to have a reliable support system:
I still hit up other people for advice all the time, especially people with two kids. That's something I'm really curious about right now: how to deal with your first when you have a second coming along, especially when they're so young. Luckily, a lot of my best friends have two kids and they're teaching me so much. I get really worried I'm not going to pay enough attention to Luna, but they've told me you actually start overcompensating and paying too much attention to your first. So there are a lot of these little things I always wonder about.
Teigen is clearly doing a phenomenal job as a parent, if nothing else but for her ability to be so down-to-earth and relatable. Everyone goes through these struggles, and Teigen isn't afraid to share them online.