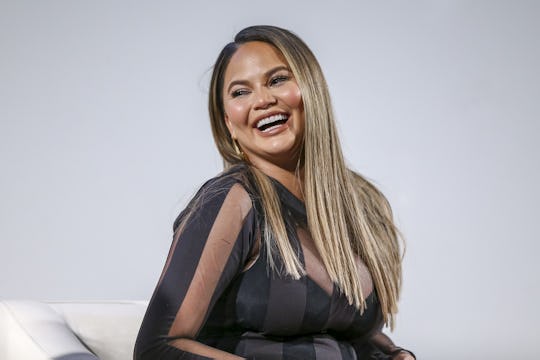 Rich Polk/Getty Images Entertainment/Getty Images
Chrissy Teigen Returns To Twitter With New, Adorable Details About Baby No. 2
Model Chrissy Teigen, also known as the queen of the internet, announced late Wednesday that her son had finally arrived. And on Friday, Chrissy Teigen tweeted about her son for the first time since his birth, and revealed some super cute details about the newest member of Teigen's little family. She and entertainer John Legend are now proud parents of two little ones, and it sounds like the siblings have at least one thing in common.
Teigen and Legend now have a daughter and a son, with the arrival of this newest baby. They share their toddler Luna together, and Teigen revealed her due date for this new addition during The Ellen DeGeneres Show in February, according to Us Weekly. But at the time, she said he was due in June.
Teigen did admit in the tweet that her son came a few weeks early, but we don't know much else about his birth. Teigen simply tweeted "Somebody's herrrrrrre!," alongside lots of baby bottle and other emojis when she announced that the baby had arrived, according to PEOPLE. So hopefully, everything went smoothly, and Legend and Teigen's second child is very healthy and happy, and just happened to make his debut a little ahead of schedule.
Teigen revealed to her followers and fans that her son and Luna have the same nose already. Can you say adorable? As the little guy gets bigger, other similarities between the kids are sure to emerge, but it's definitely very cute that Teigen was already able to spot one way in which her two kids were alike right from the start.
Teigen also tweeted that the new baby "is a few weeks early so he's litttttttle and makes the teeniest noises. We are in love." I can practically hear parents who can very much relate to that sentiment melting over that comment all across the internet.
And even though Legend and Teigen's baby boy was early, it sounds like Teigen was very much ready for her son to arrive. She tweeted back on May 9, "happy pregnant Chrissy is gone. meet OVER IT Chrissy. Wanna hold my boy let's do thisssssss." And now, she's gotten her wish.
So far, no word on what Teigen and Legend have named their newest bundle of joy. Back in February, Teigen didn't seem to know the answer to that either. She told Ellen, according to Us Weekly:
Boy names are really tough and I don't think he will even have a middle name because we can't even come up with a first name.
So it could be that the parents haven't even named their son yet. Sometimes, parents opt to wait until after a baby is born to decide on a moniker. Or, they might think they like something, then decide to change it before they make it official.
Of course, it's also very possible that Teigen just hasn't let fans know what she and her husband chose to name their second child yet. She might not tell fans and followers for weeks. It's of course completely up to the couple when they want to reveal that sort of information — but that doesn't mean fans won't be super impatient in the meantime.
Teigen shared the news that the couple was expecting another baby way back in November, according to PEOPLE. So for fans of either Teigen, Legend, or both of them, it's been a long wait for this new baby.
But as long as it may have seemed for fans of Teigen, it almost definitely felt much longer to the celebrity mom, who has clearly been very anxiously awaiting her baby boy. Hopefully, the whole family is just taking some time to get to know him, and fans will hear more about Luna's new playmate very soon.