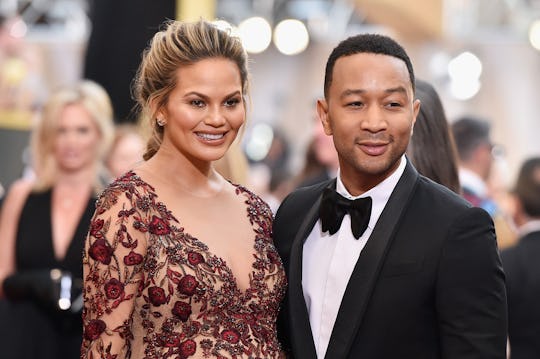 Kevork Djansezian/Getty Images Entertainment/Getty Images
Chrissy Teigen Welcomes Daughter Luna Simone & It's The Happiest Day Ever
She is finally here! Model Chrissy Teigen welcomed daughter Luna Simone Stephens on Thursday, and the the world rejoiced (at least, the social media world did). Teigen waited to announce the news in a simple post on her Instagram account Sunday morning, snapping a pic of little Luna's baby vitals (6 pounds, 7 ounces!) with the caption, "She's here!"
"Luna Simone Stephens, we are so in love with you!" Teigen wrote. "And sleepy. Very sleepy." Teigen's husband, musician John Legend, also spilled the news on his own Twitter account, writing simply, "Our new love is here! Luna Simone Stephens, born on Thursday, the 14th. We couldn't be happier!"
Chrissy Teigen announced her pregnancy back in October 2015, sharing an adorable photo of herself and husband John Legend on Instagram. Since sharing the news, Teigen has become an outspoken mama, quick to shut down critics and brave in opening up about her IVF and pregnancy struggles. Oh, and she's also been hilarious.
Teigen and Legend don't plan to call it quits with just baby Luna, either. In an interview with Self in March, Teigen revealed that she wanted several children. "I think I'll probably be pregnant all through my 30s," she said. She wants a big family and a lively household:
I've always pictured everyone around the table for the holidays and together once a week. It'll be heartbreaking if it doesn't end up happening, but hopefully it will. We've got some embryos on hold. Four is good, I think. And then, maybe a dog after. I hope that when we do have those four kids, John and I can look at each other and know that it's us against them. We are going to love the s— out of our kids, but we are going to team up and fight in pairs!
In that same Self interview, Teigen admitted she was a little nervous. "I've truly never been alone with a kid," she said. "I don't think I've changed a diaper! I'm like, how many times a day do they go?"
But that's Teigen's usual candid style. During her pregnancy, she shared details with fans about how she chose the gender of her baby, telling People, "I've made this decision. Not only am I having a girl, but I picked the girl from her little embryo. I picked her and was like, 'Let's put in the girl.'"
And now that girl is here! Welcome to the world, baby Luna Simone. I'm pretty sure everyone is going to love the sh*t out of you.