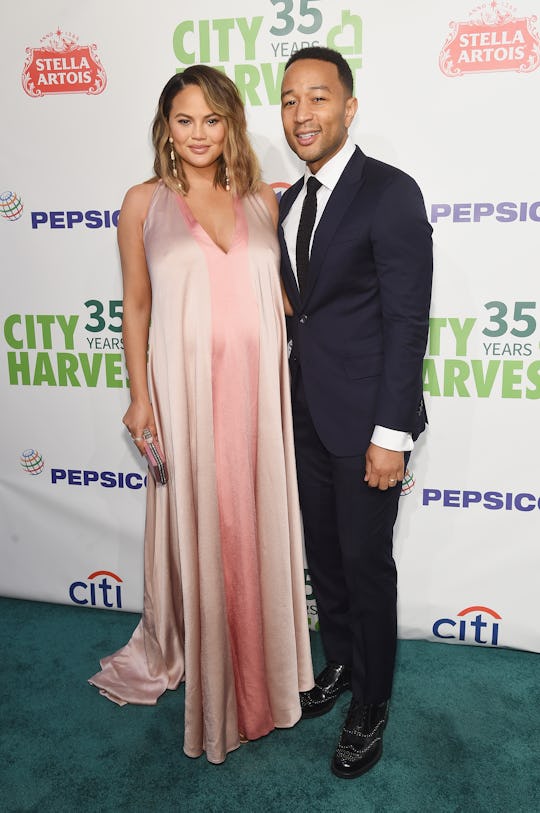 Jamie McCarthy/Getty Images Entertainment/Getty Images
Chrissy Teigen Went To A Mexican Restaurant At Midnight While Barefoot, & Same
It goes without saying but everything about host, model, and mom of two Chrissy Teigen is #goals — from the way she approaches parenting, to her relationship with her husband, John Legend, to the fact she isn't afraid to be herself. These things can be seen on both her Instagram and Twitter accounts, where she gets real with fans, time and time again. Like on Thursday night, for example, when Teigen went to a Mexican restaurant at midnight while barefoot and immediately had to Instagram it after. Talk about being real.
If there is anyone to make a dress look good inside of a Mexican restaurant without any shoes on it's Teigen. In the Instagram post, Teigen modeled against a condiment bar at Del Taco, according to Entertainment Tonight, in a gorgeous blush pink evening gown that looked absolutely gorgeous on her. Seriously, only she can make a late night fast food run look that good. By looking at the picture, it's hard to believe that she is a mother of two and just gave birth to her second child, a son named Miles, one month ago according to Us Weekly.
If the photo didn't make fans crave Mexican food, then they can look to Teigen's caption on the photo, where she wrote down her order in detail. "Two chicken soft tacos, extra del scorcho," Teigen wrote.
Because if fans can't look like Teigen in that gown, then they can at least eat like Teigen. And when has she ever let fans down with her suggestions?
The best part about Teigen's Instagram post is that it lets her fans know that they're not so alone in their late night cravings. I mean, really, who hasn't been to some fast food restaurant at midnight looking a little disheveled in search for their favorite food? While those people might not have been wearing a dress as pretty as Teigen's, it's the act that counts.
But it's not like Teigen put on an evening gown just to eat tacos. Earlier in the evening, Teigen and Legend had been celebrating Legend's launch of the rosé that he helped create, according to Entertainment Tonight. But somewhere after the celebration, hunger struck the Cravings author — and you really can't blame her for acting on it.
Throughout her second pregnancy, Teigen was open with fans about what foods she was eating and craving, according to Us Weekly, which were incredibly diverse. Teigen let fans know on social media that she wanted everything from scalloped potatoes to cinnamon rolls to yes, tacos straight from a taco truck. Pregnancy or not, the cravings are still real.
But another great thing about this Instagram post is that Teigen isn't hiding anything from fans or pretending like she doesn't eat fast food every now and then, even after giving birth. Teigen has been honest with fans about the pressure to lose the post-pregnancy baby bump weight in the past.
After she gave birth to her first child, a daughter, Luna, in 2016, Teigen told TODAY that women in Hollywood get a lot of help when it comes to losing their baby weight and new moms shouldn't necessarily look up to them. Teigen said, according to TODAY:
I think people get this jaded sensation that everybody's losing it so quickly, but we just happen to be the ones who are out there. We have nutritionists, we have dietitians, we have trainers, we have our own schedules, we have nannies. We have people who make it possible for us to get back into shape. But nobody should feel like that's normal, or like that's realistic.
Leave it to Teigen to be realistic about the things in her life — including the fact that she eats fast food late at night without her shoes on, one month after giving birth. Talk about goals.