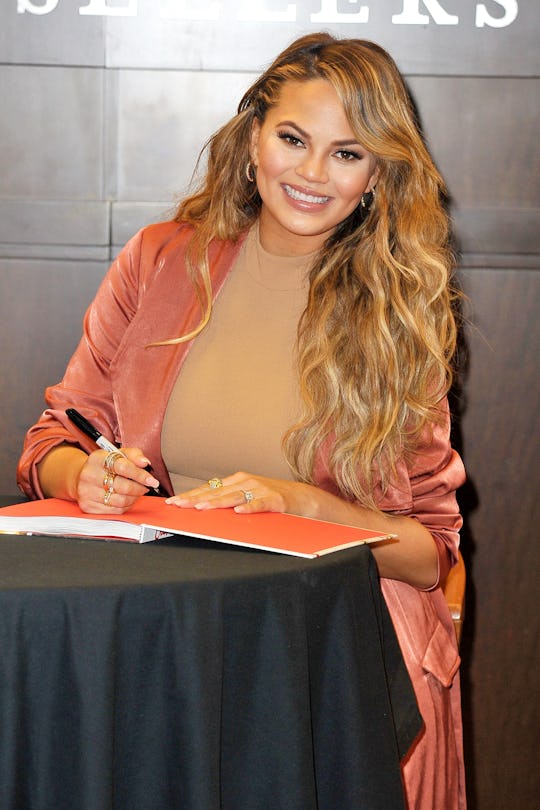 Jerod Harris/Getty Images Entertainment/Getty Images
Chrissy Teigen Wore A Crop Top For Mother's Day & The Internet Said New Moms Can't Do That
Mother's Day: The one day of the year when moms, for the most part, get to sit back and bask in the glory of some well-deserved and hard-earned appreciation. For new moms, the annual observance is always particularly special, marking a lifetime of Mother's Days to follow now that the baby has arrived. That is of course, unless you're a supermodel. On Sunday, new mama Chrissy Teigen wore a crop top in a Mother's Day Instagram post — and you'd think the woman had committed a some kind of crime based on reactions and comments online.
The 30-year-old model posted a casual photo of herself making some "low and slow" scrambled eggs for her first Mother's Day. Teigen gave birth to a daughter, Luna Simone Stephens, on April 14. In her photo, Teigen rocked her post-baby body — just one month since Luna was born — with a white crop top and daisy dukes, and one gorgeous (and very comfy looking) floral robe. There were more than 6,000 comments on the post, and entirely too many people decided it was totally OK to body shame a new mother on her very first Mother's Day. Look, I don't care if she is a supermodel with impeccable genes: Body shaming isn't cool no matter who the target of such criticism is.
The Instagram comment section got downright ugly, with gems including: "She hit the genetics lottery! Its just her make up and she is very lucky. I'm still trying to lose my baby weight after 15 years!" and "She might make the food, but she does NAT eat the food." Some commenters even took shots at the veracity of her claim to motherhood: "maybe she was never pregnant... Maybe she had a surrogate..." or just got downright vitriolic: "oh good. Let me just go die now." Some of the comments claim that Teigen has placed unrealistic expectations for new moms to snap back and get in shape as fast as she has post-birth.
But that's just the tip of the criticism iceberg for Teigen as of late: There's been a lot of internet vitriol swirling about what she should and shouldn't do, like the totally unnecessary flak she got for going out to dinner nine days after giving birth to Luna. And, of course, folks couldn't resist commenting and clucking when Teigen posted a Snapchat selfie in her underwear just three weeks after giving birth.
With the seemingly never-ending levels of new mom guilt, including everything from breast vs. bottle, baby-wearing, to when or if to go back to work — why is the internet so up in arms about whether a new mom wears a crop top one month postpartum, or the fact that Teigen's body appears to have "snapped back" so quickly and so well? Sadly, I think a lot of it has to do with a culture of the objectification of women. Think about it: For many commenters, Teigen has been reduced to her crop top and seemingly "flat" belly — but let's all just take a step back and acknowledge her for who she is, not what. Teigen is a new mom who was just trying to enjoy her first Mother's Day.
Husband John Legend shared this beautiful photo of Luna with a special message to his wife:
To my wonderful wife, @chrissyteigen. Luna and I are so lucky to have you in our lives. If our daughter can be even half as awesome as you, I will be so happy and proud. Happy 1st Mother's Day!
To be fair, there were also plenty of Mother's Day well wishes for the first-time mother after IVF, and one commenter even raised a very good point: "Why are u cooking? You should have breakfast in bed." Well, John?
But back to the matter at hand: How about when a mom — Chrissy Teigen or otherwise — shares a candid moment of her own new motherhood we raise her up instead of tear her down, with a congratulatory "Good on you for remembering to eat because it's damn near impossible when you have a newborn!" New moms have enough to worry about without having to feel like they are somehow shaming other mothers for how they choose to dress themselves.