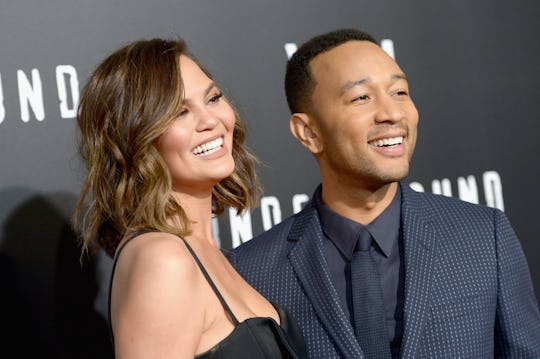 Charley Gallay/Getty Images Entertainment/Getty Images
Chrissy Teigen Writes Luna A 1st Birthday Message
It's pretty hard not to adore Chrissy Teigen — she's beautiful and hilarious and not even sort of afraid to keep things completely real at all times. Add husband John Legend into the mix, and you get the kind of #relationshipgoals that makes it feel like true love totally exists. But none of that compares to the kind of heart-exploding perfection that results from pretty much any update involving their daughter, Luna. It's hard to believe that little Luna is already a year old, but to mark the occasion, Chrissy Teigen wrote Luna a first birthday message, and if you're a fan of the super sweet family, it's something you won't want to miss.
According to E! News, Friday marked exactly one year since Teigen and Legend welcomed their first child into the world, and thanks to the couple's penchant for social media sharing, fans have had the chance to follow along with many of their daughter's major milestones, funny moments, or just sweet thoughts from mom and dad. Though it's probably safe to assume that Teigen and Legend will be celebrating the big day with a fabulous birthday party, Teigen first took to Instagram to commemorate her first year of motherhood with an adorable family photo, and a sweet tribute to her little girl.
Sharing a series of beautiful black-and-white pics snapped by celebrity photographer Peter Yang, Teigen wrote an accompanying love note to her "lovebug," who she calls Lu. The doting mom wrote that her little girl was "all the best parts of the both of us," and noted that she "cannot believe how much has happened in your first 12 months of life." And if that wasn't sweet enough, Teigen signed off by adding, "We love you to the luna and back," because, of course she did.
The heartwarming post is just the latest in a year full of adorable glimpses of Teigen and Legend's life as a family of three, and it's one that fans can't seem to get enough of. But that doesn't mean that everything about parenthood has been easy for the couple. Prior to announcing her pregnancy with Luna in 2015, Teigen opened up about the couple's struggle with infertility, and admitted to model Tyra Banks during an appearance on her show, FABLife, that they "would have had kids five, six years ago if it had happened," and that they had begun seeing fertility specialists in hopes of finally starting a family, according to Us Weekly.
Then, after becoming pregnant as a result of IVF, Teigen came under fire for comments about having "chosen" the sex of her child as a result of the procedure (she and Legend specifically decided to implant a female embryo, according to The Daily Mail). And after welcoming Luna last April, Teigen quickly became the target for a ton of of online mom-shaming, for doing everything from daring to go out to dinner not long after giving birth, to holding her daughter "wrong," or for apparently under- or over-dressing her child.
Teigen always seemed to be a total expert as brushing off the negative comments, but in an incredibly honest essay for Glamour magazine in March, she opened up about her battle with postpartum depression — something which seemed pretty surprising given what appeared to be her flawless mom-life. In the piece, Teigen admitted that the fact that her life was actually so wonderful made her hesitant to say anything about her struggle at first, but ultimately she knew she had to, since it was "such a major part of [her] life and so, so many other women's lives." Perhaps most importantly though, Teigen shared that coming to terms with her postpartum depression and actually getting help for it meant that she was able to start healing. And while it may not have been the kind of motherhood experience she (or anyone else) would have chosen, her honesty likely helped other moms realize that they had every right to reach out for help, too.
Of course, even with the natural bumps in the road, Teigen and Legend have seemed to have had an amazing first year watching Luna grow — they brought their little girl to Italy where they married a few years earlier, and looked absolutely adorable in matching baseball jerseys at a Los Angeles Dodgers game together. Then there were the sweet photos of Luna dressed up at Halloween and Christmas, or of her just being totally amazed by the fish at the Houston Aquarium. Most recently, Teigen shared a glimpse of what Luna's first birthday cake might look like when she posted a snap of herself at a cake decorating class at Duff's — the finished product complete with rainbow confetti and gold polkdots.
Luna's first birthday is sure to be a big celebration of Teigen and Legend's love for their little girl and their beautiful year as a family, and it definitely should be. But it also seems like a day to look back on how far they've come together — and the particularly impressive way that Teigen has been so refreshingly honest about motherhood, even when she easily could have let the world assume that her life was as picture perfect as it often seems online.