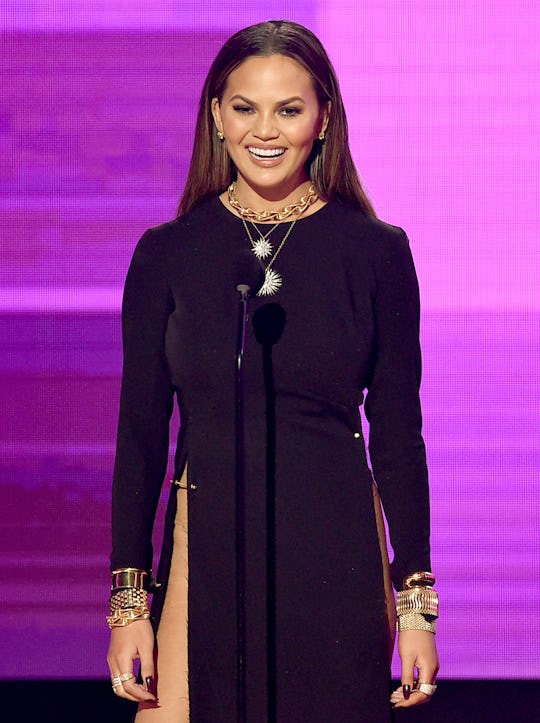 Kevin Winter/Getty Images Entertainment/Getty Images
Chrissy Teigen's AMA's Speech Made An Awesome Political Statement
Besides being one of the most beautiful women on the planet, Chrissy Teigen has won over millions of fans by standing in the spotlight and still being courageous enough to say what we're all thinking. From mom shaming to stretch marks, Teigen is always willing to let it all hang out. Which is why it was no big surprise when Chrissy Teigen's AMA speech made an awesome political statement: love trumps hate. And we could all use a little extra love now more than ever.
But first, let's take a look at Teigen's cut-to-there dress. The model rocked a gown with what has to go down in red carpet history as having the most epic slit ever. There was a safety pin at the top, which was a subtle nod to the movement to wear safety pins to show that you stand as an ally to those who might feel threatened by a Donald Trump presidency. Unsurprisingly, she pulled it off and looked totally amazing. Teigen, of course, showed up with her wildly talented singer-songwriter husband, John Legend.
Here she is strutting onto the stage and giving that safety pin a workout.
But the coolest thing about Teigen is that, although it's her undeniable beauty that captures your attention at first, once she's got your focus, you realize she's a girl with something to say. And Sunday night's introduction of her husband's performance was no different.
The next performer is a brilliant musician and a wonderful father, who makes a pretty damn good breakfast sandwich. And he has been known to write love songs about me. What can I say, I'm very inspiring. On the heels of what's been a really interesting, and f---ed up, election we could all use a little love tonight. Performing his new single "Love Me Now" please welcome the love of my life, John Legend.
Of course the broadcast bleeped the curse, but you could certainly understand what Teigen was saying. Take a look:
Legend's performance of "Love Me Now" was his own version of protest against the intolerance of President-elect Trump and his administration. As he sang about love, images of people of all ages, races, colors, and sexual orientations loving one another flashed and formed a mosaic that was surprisingly emotional. Take a look at Legend's AMA performance.
Teigen, has made no secret of her intense dislike of Trump, blasting him just this weekend on Twitter for demanding the cast of Hamilton apologize for calling out Vice President-elect Mike Pence from the stage as he attended the Broadway show.
"Donald knows very well what he is doing," Teigen fired over Twitter. "He knows the Hamilton speech was NBD. He knows his tweet will fire both sides up to distract from the 25 million dollar settlement of yesterday. Most conniving human on planet earth."
But it was this mic-drop tweet from Teigen that's a perfect example of why her fans love her so much.
"Look who wants a f—ing safe space now," she wrote. "The very thing him and his supporters make fun of as liberal political correctness. God, what a POS."
Never change, Chrissy. No wonder Legend writes so many love songs about her.