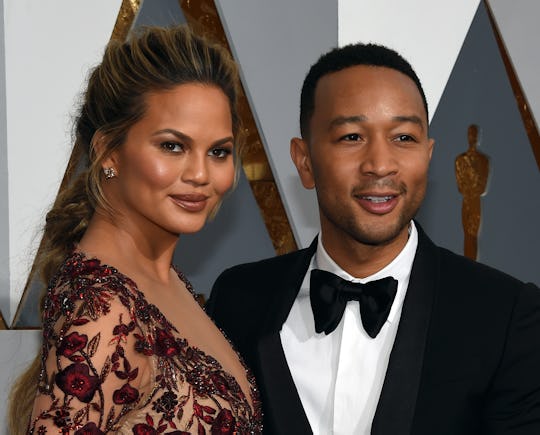 Ethan Miller/Getty Images Entertainment/Getty Images
Chrissy Teigen's Baby Shower At Kim Kardashian's House Looked Like The Best Time Ever
Chrissy Teigen leads a pretty enviable life. She is married to the amazing John Legend, she knows how to cook a pretty dang good meal and she has a great group of girlfriends that look like they know how to have a really good time. Yes, Chrissy Teigen is one of those women who really proves that you can have it all. So, it comes as no surprise that Chrissy Teigen's baby shower at Kim Kardashian's house looked like the best time ever. Come on...it's Kim Kardashian's house. How can you not have a good time?
Kim threw the party for Teigen on Saturday, March 26 and from all of the pictures on social media, it looked beautiful. According to US Weekly, the baby shower had a high/low theme which combined extravagant white table settings adorned with flower arrangements in Kim's backyard with cheap, fast food like french fries from McDonalds and nacho cheese. Sounds like the best party ever, am I right? I would go just for the food alone.
At the party, there was a photobooth for all of the guests to use. And, judging from the amount of Instagrams from the baby shower that infiltrated my feed this afternoon, it looks like it got plenty of use.
Just look at these photos posted by Kourtney Kardashian on Instagram.
The party was celebrated in style by Teigen's closest friends and by looking at these photos, they had a great time. Actresses Jenna Dewan-Tatum and Minka Kelly were there, in addition to Kourtney and Khloe Kardashian (a given), Stacy Keibler, Erin Andrews, celebrity hairstylist Jen Atkin and Khloe's long-time best friend Malika. Basically, every single celebrity you wish you were friends with attended the party.
Doesn't everyone look gorgeous?! Especially Teigen, who is practically glowing in these photos; I swear I can feel her radiance through my computer screen.
Khloe posted this hilarious Instagram from the party's photo booth on her Instagram which further proves that this looked like the best party ever. I love the fact that Teigen and friends are not afraid to have a little fun and make fun of themselves (and each other). From the cut out of Teigen's face at the 2016 Oscars to the shade Kim is throwing with her eyes in the photo — everything about it is great. It definitely makes me wish I had an invite to the hottest baby shower in town.
Teigen and Legend celebrated their pregnancy once before at their first baby shower in Manhattan earlier this month. The two celebrated with crowns and amazing looking cookies but something tells me this most recent baby shower was the one to beat.