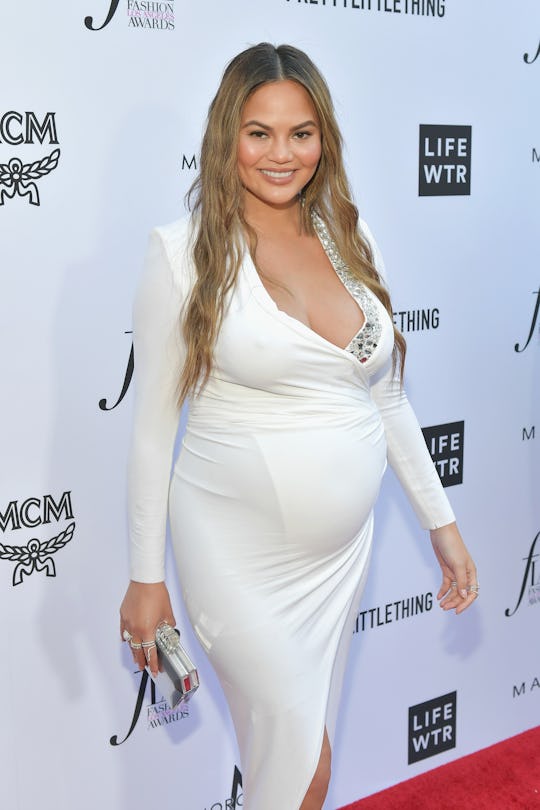 Neilson Barnard/Getty Images Entertainment/Getty Images
Chrissy Teigen's Baby Shower For Her Second Child Was #Goals
Let's be real, Chrissy Teigen should be celebrated every day. The model, TV host, Twitter extraordinaire, and mom to a young daughter, Luna (with another child on the way) is cool enough to have parties thrown in her honor, just for fun. But Teigen has a reason to celebrate now in particular — she is expecting her second child, a son, with husband John Legend, in June, according to People. So, with only just a few weeks left in her pregnancy, it's no surprise that this calls for a celebration. Looking at pictures of Teigen's baby shower for her second child held on Friday night, showed that the affair was super low key but perfect for Teigen.
Teigen's baby shower for her next child, thrown by Kim Kardashian, according to Harper's Bazaar, not only sounded like the best baby shower ever, but the best party, ever. It's pretty well known that Teigen loves food (she's the author of two cookbooks and often posts videos of her cooking escapades to her Snapchat account), so of course, Teigen celebrated the upcoming birth of her child wth her favorite thing, according to People — a lot of food. Guests dined on burgers, chicken sandwiches, and milkshakes from Shake Shack, according to E! News. Now that is what food dreams are made of.
But judging from Teigen's Instagram story, the best part of her baby shower were the cakes decorated with "Legend" puns in honor of the baby's last name.
The cakes, decorated with phrases like "a legend in the making" and "you're a legend" seemed to be a major hit, especially with the guests in attendance (including Teigen herself). The super casual bash filled with delicious looking food is the perfect way for Teigen and her friends to celebrate the baby's soon to be arrival before Teigen takes on a life of being a mom of two young children.
In true Teigen fashion, she did live tweet a few moments from her shower, and her tweets were hilarious. Shake Shack, cake, and snarky tweets — really, what more could one person need?
The cuisine served at Teigen's baby shower definitely falls in line with her pregnancy cravings. During this second pregnancy, Teigen has been loving everything that doesn't give her acid reflux (how could you not love that?), according to an interview with Food & Wine. Teigen said:
I can do hamburgers, but I can't have Thai food and I love crazy spicy food. I definitely am craving sandwiches a lot, like deli sandwiches. I feel like little boy isn't as picky as Luna was.
While this spread definitely seemed to please Teigen, this isn't her first shower that she has had for her son, according to People. In February, just a few months after first announcing that she was pregnant, according to Us Weekly, Teigen's closest girlfriends threw her a baby shower in New York City. "These are my best girlfriends on the planet," Teigen said, in a video from her shower, posted to her Instagram account. "I have a surprise baby shower." Talk about having some amazing friends.
But it is important to note that there is a common theme in both of these showers — Teigen was thrown both of them as a surprise, surrounded by the people she loves. This clearly shows that everyone is so excited for her baby to arrive into the world and they can not wait to shower Teigen and her new addition with love — the five cakes were just an added on bonus to this. And now that Teigen's showers are out of the way, it is now time for the baby to get here, like, as soon as possible.