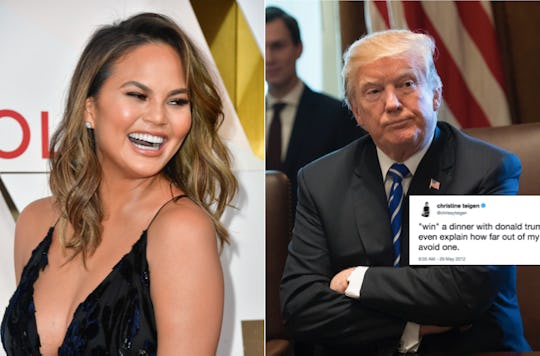 Frazer Harrison/Getty Images Entertainment/Getty Images, Pool/Getty Images News/Getty Images
Chrissy Teigen Is The Donald Trump Twitter Troll We Deserve
Chrissy Teigen is famous for a lot of things. She's a great mom, a Victoria's Secret model, and my personal favorite voice on Twitter. Teigen has used her substantial social media following to discuss a medley of topics ranging from the NFL to political commentary. But Chrissy Teigen's tweets about President Trump are some of her best material. She may have made a few enemies online with her heated tweets about Trump, but that hasn't stopped her from voicing her opinions loud enough for the ones in the back to hear.
Teigen has been tweeting about Trump for nearly a decade now, but many of her tweets didn't come until after he entered politics. Many of Teigen's more recent tweets take on Trump as POTUS and she doesn't hold back. From actual criticism to hilariously petty jabs, she has racked up quite the Trump tweet repertoire.
Most recently, the hilarious model made a comment about Trump's followers and pointed out that even those who didn't vote for the current president, such as herself, are stuck dealing with the aftermath of his election. Not everyone was one her same page, though. One user tweeted her back saying "Yes I do deserve Trump and all the great things he is doing for YOU and ME." Others pointed out that she and her family are "free to leave" if they don't like the country's leader. *eye roll*
Just a few days earlier, she sent out another tweet about the president in response to a tweet by The Independent that has since been deleted. While it was not one of her lengthier Trump tweets, Teigen got a few laughs when she kept it short and sweet, referring to the president as "President Rump."
Back in August, Teigen managed to make a pop culture reference and land a jab at the president all in one compact tweet. She shared a photo of the film American Psycho with the movie's title across the screen, captioning it, "Watching a cool Donald Trump biopic on the plane." She followed it up with another tweet literally declaring fictional psychopathic mass murderer Patrick Bateman to be a better man than those in the White House.
Despite her recent onslaught, some of Teigen's highest quality tweets came from all the way back in 2011 and 2012, when Trump was still in the public sector. Those included above are just a sampling, but it's clear that Teigen's sense of humor has been alive and well for quite some time.
Teigen truly kicked it into high gear with during Trump's first presidential debate against Hillary Clinton. All throughout the debate, she sent out a storm of commentary beginning with a tweet saying, "Drinking game for tonight is to never stop." She continued the tweeting spree with a number of comments, including a solid reference to The Office.
Suffice it to say, all of Teigen's trash talking seems to have gotten under Trump's skin. After nearly 10 years of mentions, Teigen announced in July that the president blocked her from viewing his profile, according to Time. She announced the news with, how else, a tweet. Hilariously, Trump decided to draw the line at the simple comeback of "no one likes you."
The tweet that inspired Teigen's response was a complaint from Trump that it was "very sad" that Republicans "do very little to protect their President." (Note, that is his unnecessary capitalization of his title, not mine.)
Shortly after Trump blocked her, Teigen spoke with People about the experience, stating that "It's been a long time coming." She also specified that her vendetta against the POTUS has been raging long before his presidency:
I have been very anti-Trump since The Apprentice, like when it first started, so it didn't start during the presidency like everyone thinks. This goes pretty deep.
It is not surprising that Teigen wasn't exactly heartbroken about being blocked. She told People:
And I don't even follow him so I'm definitely fine being blocked. There's just this part of me that's so happy that he had to actually do that. It's just funny.
Thankfully, Teigen's tweets didn't end when Trump blocked her. She has made a number of snarky comments since then. With any luck, fans can look forward to more in the future.
Check out Romper's new video series, Romper's Doula Diaries:
Watch full episodes of Romper's Doula Diaries on Facebook Watch.