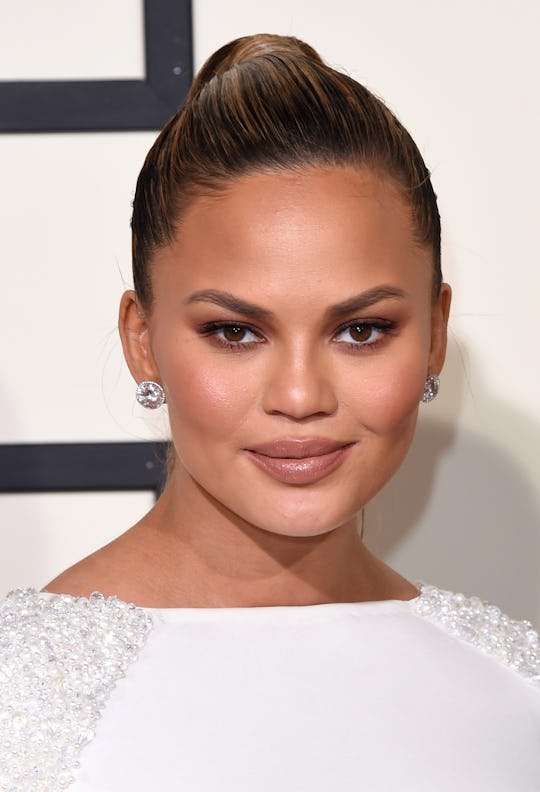 Jason Merritt/Getty Images Entertainment/Getty Images
Chrissy Teigen's Breastfeeding Photos Shouldn't Surprise Anyone, Because They're Just Real
Question: is it possible that there's such a thing as a "good internet troll"? Someone who stirs the pot and provokes discord for virtuous reasons? If there is, I submit that Chrissy Teigen is a prime example. Nobody else quite nails that rare combination of unapologetic and lovable. She's a swimsuit model who loves to eat. A new mom who refuses to kowtow to the public's expectations of her. An often-bullied celeb who somehow always responds to her detractors with wit and grace, never stooping to their level. So is anyone actually shocked when Chrissy Teigen shares breastfeeding photos on Instagram and Snapchat? She's just so good at pissing people off, and coming out as the clear winner in every feud she enters.
Posing a breastfeeding pic online is a surefire way of whipping the Internet into a frenzy. Of course, there are plenty of people who will just shrug and move on, but damn, do a lot of people seem to care when they see one. From those yelling "Yassss, Queen!" to those rage-typing "Get your boobs off my computer," there sure are a lot of very strong opinions out there. Frankly, I'm surprised Teigen took so long to share a breastfeeding pic, because it seems very much up her alley. She started subtly, with what looks like a post-feeding shot.
Her husband, John Legend, shared this skin-baring shot with the caption "Burpface." It's definitely boob-adjacent, but Teigen might have been wearing a tube top or something, who knows?
But she finally went all in on Snapchat recently, sharing a video of herself breastfeeding her daughter, Luna, while getting dressed for a photo shoot. It's a great illustration of how working moms have to balance the task of being two people at once without sacrificing the quality of their work or their parenting. And for those wondering why she had to multitask, as Teigen recently explained to Entertainment Tonight, "If you kind of do the math, you're kind of breastfeeding for 10 hours a day total." Where does she even find time to use social media? The woman's a superhero.
Teigen's also "keeping it real" on the less glamorous aspects of motherhood, too, from the wider hips to the logistics of spray tanning without contaminating your breast pump to missing the Met Gala because she's stuck at home being a "walking boob." Sure, her life doesn't exactly mirror that of the average mom, but she's still one of us, she speaks for us, and she absolutely will not take any crap. Moms couldn't ask for a better spokeswoman.