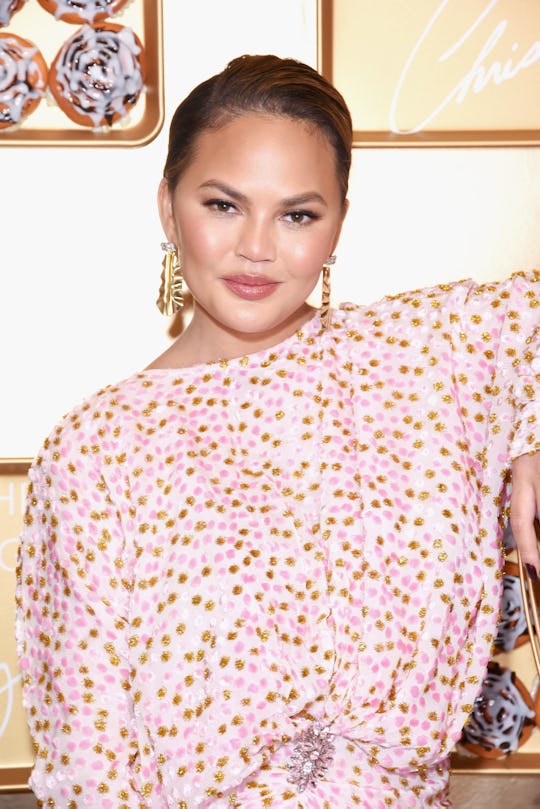 Presley Ann/Getty Images Entertainment/Getty Images
Chrissy Teigen's Honesty About Stretch Marks Will Make You Shout "Amen To That!"
It's hard to find a celeb who's more down-to-earth and honest than Chrissy Teigen. Whether the topic is her motherhood journey, politics, or just about any other subject you can think of, she's just about an open book. Recently, Chrissy Teigen's candid quotes about her postpartum body show that she has no shame in her stretch mark game — or any of the other aspects of her body after bringing two beautiful babies into the world.
When speaking with ELLE UK about social media and her relationship with it, Teigen got into some of the ways in which it impacts her view of herself. A major topic of conversation in the interview was stretch marks — having and hiding them. Teigen has posted not one, but two popular shots of her own stretch marks to raise awareness of just how common and beautiful they are. "Everyone Photoshops them out. It's insane," she told ELLE UK. "And I don't want anyone to feel like they're the only ones. ... Who's to say it's even a flaw?"
In a past interview with TODAY, Teigen shared her views on the role that stretch marks should play in women's lives: namely, no role at all. "When a weekend comes like this when you get to be with your friends and family and take some time away from the stress of life," she told the outlet. "The last thing you should be thinking about is, 'Do I have a stretch mark here? Do I have this happening here?' Screw it — enjoy your life!"
Teigen tweeted a clip of her bikini-clad midsection this past July, writing "Mom bod alert!" She then followed it up with a photo of herself next to husband John Legend in the same bikini, according to The Independent, with this written alongside it:
Instagram is crazy. I think it's awesome people have killer bodies and are proud to show them off (I really do!!) but I know how hard it can be to forget what (for lack of a better word) regular ol' bodies look like when everyone looks bonkers amazing.
But Teigen doesn't claim to have reached self acceptance perfection just yet. "Also I don't really call this 'body confidence' because I'm not quite there yet. I'm still super insecure. I'm just happy that I can make anyone else out there feel better about themselves!" she added in another tweet.
Along with stretch marks, Teigen spoke with ELLE UK about pregnancy and pregnancy weight gain. And while conceiving wasn't easy for her, she is up for giving it another shot; Teigen wants four kids, she told the magazine. But along with the outcome of a baby, she was mostly in it for the food:
I loved being pregnant... I think it was mostly the eating binges, though. John used to make this sandwich and leave it for me at midnight. I'd literally just grab it in the night and eat in the dark. Miles was like 4.5 lbs and I gained 60 lbs. I had a good time!
Teigen isn't ashamed of the weight that she gained, and rightfully so. While she does occasionally still go to the gym, she doesn't put pressure on herself to lose weight. And Teigen told ELLE UK that she does pressure Legend, though, in a different way: "He can't work out while I'm awake because I'll stop him. I'm just bitter. Seeing your husband get fit while you've got your post-baby body, I'm like, 'F*ck you, take a day off!'"
Lighthearted marital disagreements aside, Teigen makes a real effort to fight the unrealistic depictions of women that abound on social media. But, as she previously told TODAY, her candid nature is not a movement, it's just Teigen being her true self. "I never do anything like, 'Oh my god, let's hashtag this, let's make this a thing.' It's more just like, I'm over it," she told the news outlet. "I don't have the energy to do it anymore. It's not important to me, and it shouldn't be important to you either."
Amen to that, mama!
After experiencing a traumatic c-section, this mother sought out a doula to support her through her second child's delivery. Watch as that doula helps this mom reclaim the birth she felt robbed of with her first child, in Episode Three of Romper's Doula Diaries, Season Two, below. Visit Bustle Digital Group's YouTube page for more episodes, launching Mondays in December.