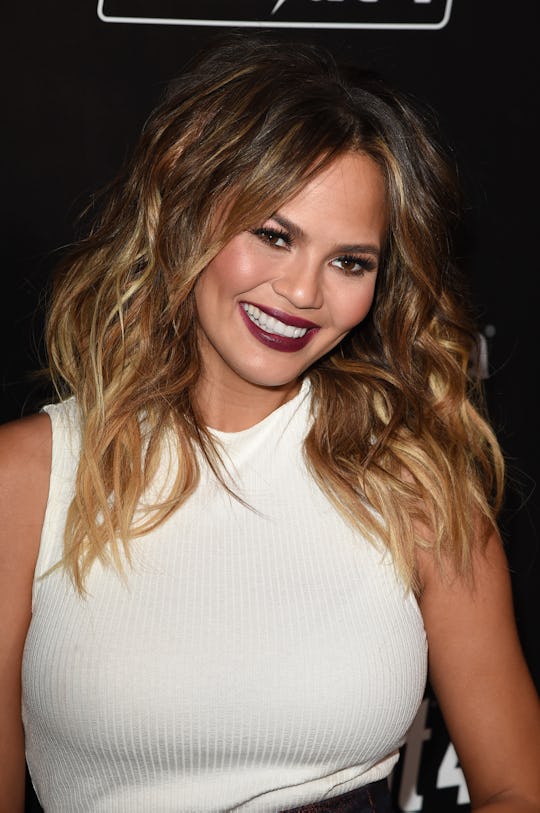 Getty Images
Chrissy Teigen's Cookbook Cover Is Making Us Even More Excited To Eat Everything In It — PHOTO
Good cookbooks are hard to come by, but the cover of Chrissy Teigen's cookbook is taking it to a whole new level. Good news: It looks delicious. Bad news: You cannot get it before the holidays. The full cookbook is being released in late February and is available for pre-order now. Patience, friends. If you follow Teigen on social media — and if you don't, get your life together — you know this woman loves to eat, cook, and talk about eating. Celebs: they're just like us, right? Her cookbook is called Cravings: Recipes for All the Food You Want To Eat. From her publisher:
Salty, spicy, saucy, and fun as sin (that's the food, but that's Chrissy, too), these dishes are for family, for date night at home, for party time, and for a few life-sucks moments (salads). You'll learn the importance of chili peppers, the secret to cheesy-cheeseless eggs, and life tips like how to use bacon as a home fragrance, the single best way to wake up in the morning, and how not to overthink men or Brussels sprouts. Because for Chrissy Teigen, cooking, eating, life, and love are one and the same.
And now that Teigen is pregnant, her love of food is coming at us full force. Because if you love to eat and morning sickness isn't killing your vibe, being pregnant is a great excuse to eat whatever you want (I mean, like you need an excuse). Teigen's Instagram is full of cheesy hamburgers, saucy noodles, and late night snacks. Yes, that is everything I want to eat.
Here's the thing: Chrissy knows how to get it on. I mean, the woman knows how to do it. The thing is, she eats like a regular human being. Her food includes lots of cheese. I mean, a lot. There's meat, salt, gluten — all the best stuff. She's not pureeing anything, and you don't need a fancy knife. Vegans and kale-heads: This might not be for you.
Like Her Late Night Burger
There's more cheese and onions than beef. And isn't that the best part?
Or Her Cheesy Zucchini Lasagna
Who even needs the basil garnish?
Or Her Pork And Shrimp Dumpling Soup
She says pork and shrimp grew "up at camp together." They did.
And that's just in the past month. Who knows what kinds of concoctions she's come up with for her cookboook?
Her fans are ready, too. In fact, they're drooling for it, even if they're wondering if they should work out before the release:
Get ready to swap sausage mac and cheese recipes, ladies. Chrissy Teigen's love of eating is coming right at you. Who else makes tuna jalepeno casserole? I mean we've all thought about it. Having it enshrined in a fancy cookbook is a whole different story.
Images: Jason Merritt/Getty Images; ChrissyTeigen/Instagram (3)