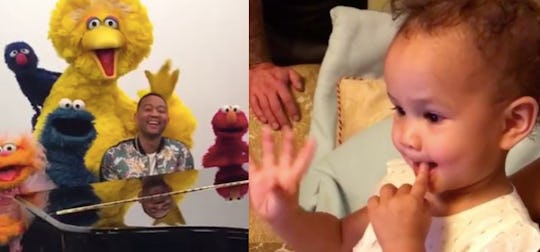 Chrissy Teigen's Daughter Had The Best Reaction To Seeing Her Dad On 'Sesame Street'
Kids of celebrities are privy to some pretty awesome perks, not least of which is seeing their moms and dads in scenarios that most of us only dream about. Such was the experience of Luna, Chrissy Teigen's Daughter. She had the cutest reaction to seeing her dad on 'Sesame Street.'
Admittedly, Luna's dad is a pretty cool guy. He was his high school's prom king, he was accepted into a number of Ivy League colleges, and he met both Prince and Michael Jackson. Oh, and did I mention that he's won 10 Grammy awards? That's right — Luna's dad is John Legend. Despite his long list of accomplishments, the singer's 16-month-old daughter seems to be most impressed by his recent appearance on her new favorite show, Sesame Street.
Teigen posted an adorable video of Luna to Instagram on Wednesday that showcased the child's excitement. In the video, which was made especially for Luna by her dad, Legend is hanging out with the Sesame Street gang and they are all eager to meet his little daughter. Teigen captioned the post:
When John first posted this video to Instagram, Luna had no idea what Sesame Street was. She was sick and couldn't go to set when John was filming so all the characters made this video for her. This is her first time watching it and knowing how freaking epic it is.
Luna's special video starred her father and Sesame Street favorites — Big Bird, Elmo, the Cookie Monster, and others — greeting the child. Baby Luna was seriously engrossed in the video. She watched wide-eyed, threw up her hands in pure joy, and smiled and pointed at the screen.
Legend and Teigen welcomed baby Luna to the world in April of last year and have been sharing her cuteness with the world ever since. In doing so, Luna's parents have shown us that she is living quite the life already. In her first year of life alone, Luna has traveled to more countries than most American adults, attended the NBA finals as a VIP, and starred in one of her dad's music videos. All of that, on top of seeing your dad mingling with the likes of Elmo is enough to give you one a big head. Fortunately, Luna's head is still adorably tiny and she is too young to know what it is to be vain.
While I am low-key jealous that neither one of my parents ever made it onto my favorite show (although I'm not sure my dad would've fit in well with the Upper East Siders on Gossip Girl), I am beyond excited for baby Luna and her sweet parents. All I ask is that Legend let the Cookie Monster know that I am always available for taste tests and chocolate chip is my favorite.