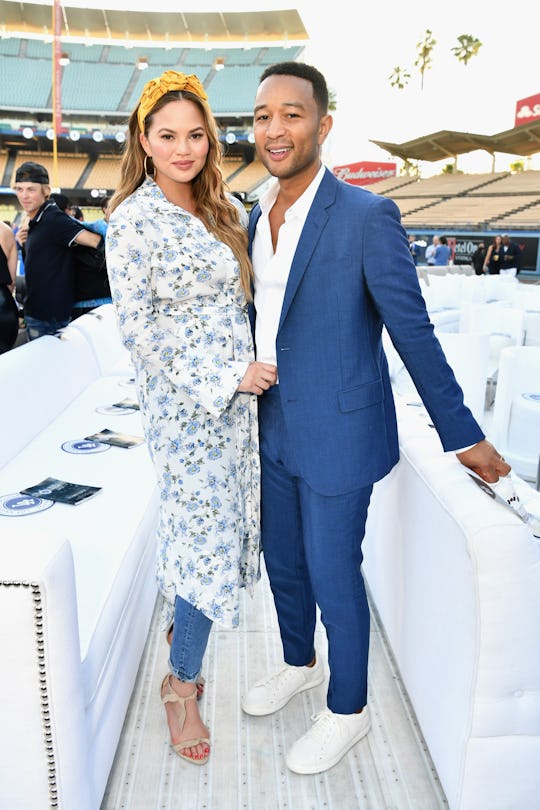 Emma McIntyre/Getty Images Entertainment/Getty Images
Chrissy Teigen's Sweet & Silly Father's Day Message To John Legend Will Make Your Heart Flutter
People are already well aware that Chrissy Teigen and John Legend are #Goals, as both a couple and as parents. From everything she shares on social media and in interviews, it really seems like the cookbook author and mom of two couldn't have a sweeter relationship with her husband. And this is only further evidenced by Chrissy Teigen's sweet Father's Day message to John Legend, which features a photo of the proud dad with his two kiddos.
Teigen and Legend only recently became parents of two —  their newborn son, Miles, was born exactly one month ago today — and they sure seem to be loving every moment of it so far. So while this Father's Day is not Legend's first, it is his first time celebrating his special day as a dad of two. And it's clear from Teigen's Instagram post on Sunday that Legend is doing a fantastic job taking on his dad duties with both Miles and their 2-year-old daughter, Luna.
Teigen posted a photo of Legend with their kids to her Instagram account with the absolute sweetest caption detailing all of the ways in which Legend is an excellent father. "What a man, what a man, what a mighty good man," Teigen captioned the photo. "Thank you for the beautiful life and these beautiful lives that you have given me." Cue the "Aww," right?
Teigen continued, detailing all of her favorite things about Legend in the caption of the photo (in a brutally honest fashion):
My best friend and partner always, the most loving and generous and kind human in the world. And the smartest. I didn't say funniest so you know I'm not lying here. We love you with all our hearts. Happy Father's Day.
Not only is Teigen's message super sweet (and hilarious), the photo is even cuter. In it, Luna poses with her father while Legend holds Miles in his lap and looks directly into the camera. It's the perfect family photo (minus Teigen). And although Teigen's caption came with a bit of her trademark sass, Legend took the dig at his personality in stride, responding to his wife in the funniest way possible in the comments of the post. "I AM funny," Legend wrote, following that up with a bunch of heart emoji.
Just when you thought that the couple could not be any cuter together, they have to top everyone's Father's Day posts with a hilarious one of their own. But, honestly, would you expect anything less?
Not too long after Teigen penned this touching message, she shared this adorable photo of Legend with baby Miles. "Brunch with my boys!" she captioned the sweet snapshot.
Teigen's post about Legend is a super touching tribute on a day that recognizes dads and all that they do. But, in a recent interview with TODAY, Legend revealed that he didn't want to spend too much time thinking about himself on Father's Day and being in the spotlight just for being a dad. According to TODAY, Legend said:
I don't think Father's Day needs to be a big deal, but it's nice to feel appreciated a little. I do think that Mother's Day is a bigger deal because — let's face it — being a mom is harder.
Humble and appreciative of his wife? Legend is too good to be true. All jokes aside, you can tell that Legend loves being a father of two — and in a recent interview with Us Weekly, Legend revealed that it has brought him closer to his wife. "It made us more of a team, even more so than we were before," Legend told the publication. "When you have a joint project like this, raising kids together, I think for us, it's brought us closer together."
The feeling definitely seems mutual between the couple. Although Legend didn't want his Father's Day this year to be that big of a deal, he clearly deserves the attention. And Teigen's Instagram post honored him in the most perfect way.