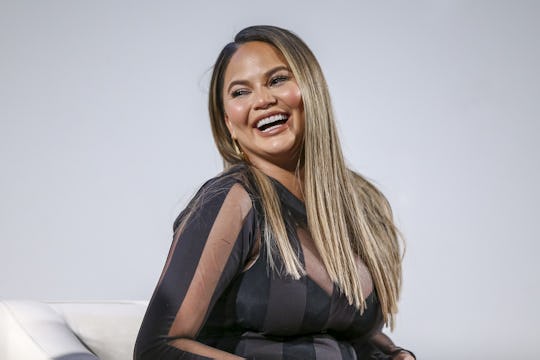 Rich Polk/Getty Images Entertainment/Getty Images
Chrissy Teigen's First Photo Of Luna & Miles Together Will Give You So Many Feels
For parents of two or more children, bringing home a newborn can be a huge reality check for just how little their older kids aren't anymore. "Holy crap, my toddler looks a giant now," I found myself proclaiming in awe the first time I had my new baby and the 2-year-old side by side. Before, I thought my youngest was so small and helpless — until there was a literally helpless and even smaller human being right next to her. It definitely put things into perspective. And Chrissy Teigen's first photo of Luna and Miles shows just how tiny her newborn really is.
As ET Online reported, Chrissy Teigen and her husband, John Legend, welcomed their second child together on May 17. (They already had a daughter, Luna, who turned 2 in April. ) Teigen took to Twitter on the day of her son's birth to share the happy news. "Somebody's herrrrrrre!" the Lip Sync Battle host declared — which of course, was met with hoards of congratulatory responses from her 10.6 million followers.
Although Teigen didn't provide any details about her son's name or birth stats at the time, she did acknowledge that he came earlier than expected. When a follower asked if the new baby looked like Luna, Teigen replied, "Same nose! He is a few weeks early so he's litttttttle and makes the teeniest noises. We are in love."
On Tuesday, a new Instagram photo of Luna and Miles gave Teigen's followers a glimpse at just how tiny her baby boy really is, Cosmopolitan reported. The shot features Miles all curled up on a fuzzy blanket in his bassinet, while big sister Luna lovingly tries to give him his pacifier. And guys, it is So. Freaking. Cute. I think my ovaries may explode.
"So tiny!" one Instagram follower commented.
"Soooo adorable!!! Look at how little. I miss my babies that small. God bless," another Instagram person wrote.
"I remember the feeling well of looking at my older son when my younger son was born and thinking "what the eff? you're huge!" I mean, he was only 3, but huge!" a fellow parent commented.
"This is truly a picture your heart responds to. How absolutely beautiful," yet another person commented. So tiny yet mighty. Perfect little peanuts you've contributed to this world
This priceless photo comes just two days after Teigen revealed how early baby Miles actually arrived. "I cannot believe Miles isn't even supposed to be out of my belly yet," she tweeted on Sunday. "His due date was June 6th! You guys thought I was pregnant forever before...." Considering Miles arrived nearly three weeks early, that's probably why he looks extra tiny next to his big sister.
And just to set the record straight, Tuesday's photo wasn't technically the first photo of Miles and Luna together. On May 21, Teigen shared a shot of herself rockin' some mesh underwear while holding a wrapped-up Miles — and Luna can be seen in the background playing a mini harp, Glamour reported. Okay, so you can't actually see Miles' face in this photo. But they're both there!
Teigen and Legend first announced they were expecting their second child back in November, People reported. "It's John's," the funny mom captioned am Instagram video of Luna pointing to her mama's belly and saying, "Baby."
After making an appearance at the Grammy Awards in January, Teigein posted a photo of herself all glammed up on the red carpet while cradling her bump, Billboard reported. She captioned the shot with, "Mama and her baby boy."
And her baby boy's first photo/name reveal was shared on Instagram on May 20, ET Online reported. "Hello, world! This is Miles Theodore Stephens," Teigen captured the sweet photo of her newborn. "We are drowning in his little peeps and nuzzles. Our household feels overwhelmed with love. Thank you for all your well wishes!"
Isn't it crazy how even seasoned parents tend to forget how tiny newborns are? And when they arrive earlier than anticipated, it makes their older siblings seem even more grown-up. Congrats again, Chrissy Teigen and John Legen, on your precious baby boy. I can tell already that Luna is going to be an amazing big sister.