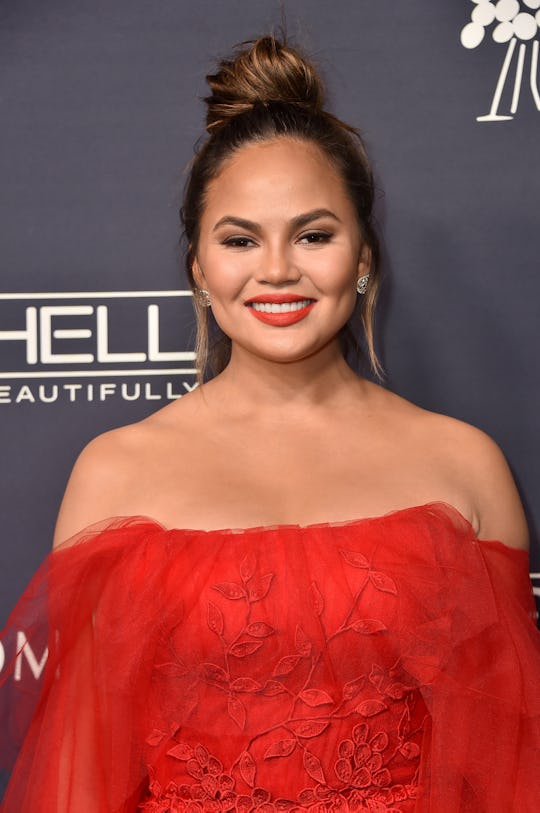 Frazer Harrison/Getty Images Entertainment/Getty Images
Chrissy Teigen Discovered A Hack For Flying With Luna & You'll Def Use It With Your Kids, Too
If you're a parent and you're not keeping up with Chrissy Teigen — on Twitter, in magazine interviews, or elsewhere — then you're seriously missing out. Because her commentary on pretty much anything is either totally hilarious or so insightful. Whether she's lamenting about her toddler's latest shenanigans, lovingly making fun of her famous husband, dishing out TMI details about her pregnant bodily functions, or just sharing random tidbits of parenting wisdom that's she's learned along the way, this charismatic mama knows how to make people smile. And is wise beyond her years. And, most recently, Chrissy Teigen shared her hack for flying with babies and it's so simple, you'll wonder why you haven't been doing it all along.
For those who aren't familiar with her many hats, Teigen is the wife of singer John Legend, a mom to their daughter Luna (with a baby boy on the way), a model, cookbook author, McDonald's spokesperson, and Twitter extraordinaire. Just to name a few. In a recent interview with The Cut, Teigen opened up about what it's like traveling with a toddler. (Because ask any parent, and they'll probably have a few horror stories to share.) And apparently, Luna — who turns 2 later this month — is quite the accomplished traveler.
"Luckily, we're able to bring her on so many of our trips. And that's where she really shines, too — she really enjoys John's touring and she enjoys traveling," Teigen told the publication. "I'd say we're the most boring when we're at home. When we're in L.A., we really are homebodies. We don't tend to leave the house very much, she's just kind of creeping around in the backyard." Honestly, when paparazzi are following you around the grocery store for photos, who could blame her?
Teigen went on to tell The Cut that she and Legend try to take advantage of what different cities have to offer, when they're on tour with Luna in tow. She explained:
She handles it really well; she's always been really good about adapting to new cribs, new blankets. I love it, because I grew up that way, too. It's pretty helpful in life.
(Hmm ... I wonder if Chrissy Teigen and John Legend could teach my toddler to sleep in a crib — any crib.) That's when the Lip Sync Battle host shared her most genius parenting hack to date with The Cut:
We recently discovered that you can bring a car seat on the airplane and buckle them in. That's our big strategy now. It changed everything!
Mind = blown.
Granted, I've never actually flown with young children. But I would imagine parents who plan on driving a rental car at their destination or traveling in taxis would need a safe place for their little one to ride — so they'd probably bring along the car seat. (Or not, because those things would be annoyingly bulky to haul around an airport.)
As far as airline logistics are concerned, most allow parents to carry on a car seat in addition to their one bag and one personal item, according to Parents. There are a few things you'll want to keep in mind beforehand: Be sure to purchase an extra seat for your child, make sure your child's seat will actually fit, and check that your child's seat has an FAA-approved sticker on it.
But how many parents actually think to use their car seat while on the plane? Just strap 'em in, and you don't have to worry about headstrong toddlers roaming the aisles, kicking seats, and throwing tantrums when you prevent them from doing so. It makes perfect sense to me. Especially if Luna was on Teigen and Legend's eight-hour trip to nowhere that happened in December, as E! News reported. And of course, Teigen hilariously live-tweeted the debacle as it unfolded.
Side note: Based on a recent Instagram photo, it seems as if she discovered a hilarious way to transport a giant, stuffed bunny, too. You know, for that next time you're on your way home from a carnival on your private jet.
Giant bunnies aside, Teigen's airplane hack comes at the perfect time. That's because in June, Teigen and Legend will be taking on a new and exciting challenge when they welcome their second child — a boy! — as Us Weekly reported. Which means flying with two young children is probably in their not-so-distant future.
So it's definitely convenient they figured out the car seat trick before their son is born. Because doing anything with two kids is a major struggle when they're little — and making sure at least one of them is strapped in (and therefore immobilized) will give Teigen and Legend a fighting chance.
Check out Romper's new video series, Bearing The Motherload, where disagreeing parents from different sides of an issue sit down with a mediator and talk about how to support (and not judge) each other's parenting perspectives. New episodes air Mondays on Facebook.