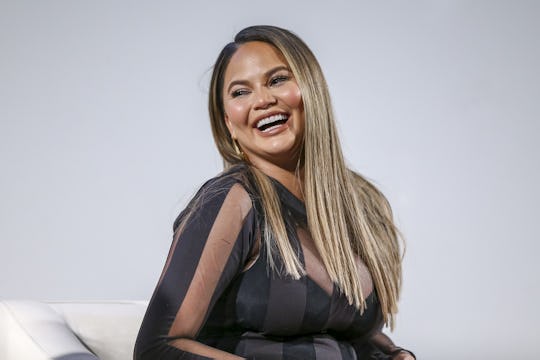 Rich Polk/Getty Images Entertainment/Getty Images
Chrissy Teigen's Instagram Of Her Bra Is One Every Breastfeeding Mom Will Relate To
Chrissy Teigen doesn't have 10.7 million Twitter followers and 18.2 million Instagram followers for no reason. Her brutal honesty and hilarious musings about life, food, and parenthood are simply irresistible. I mean, how many other celebrities post photos of themselves steaming their vaginas? Zero, that's how many. The super model turned cookbook author/TV show host is, without a doubt, a national treasure who is always making us laugh with her quirky takes on everyday topics. Which is exactly why Chrissy Teigen's Instagram of her bra is one every breastfeeding mom will relate to.
On Monday, Teigen posted a series of photos and videos on Instagram Stories, and the very first clip was something nursing mamas have probably dealt with before. Panning over her bra, Teigen shows her followers what are clearly milk leakage stains. She captioned the video with, "NooooOOOOooooOO." Apparently, her night out — celebrating with her husband, John Legend, the success of her new cookbook — started with an unexpected letdown, resulting in the annoying issue of a milk-soaked bra.
And man have I been there before. This used to happen to be all of the time when I was breastfeeding my first two babies and I worked outside of the home. Even with breast pads, it's annoying AF. Because your boob is still pressed against a soggy, wet pad — even if your actual bra isn't affected. And if you take out the breast pads? (Because who remembers to bring extras when you're sleep deprived and already have to take a million breast pump parts with to the office every morning?) Be prepared to soak through your shirt — which isn't embarrassing at all while you're trying to be professional at work.
Teigen welcomed baby number two, Miles, in May and also has a 2-year-old daughter, Luna, People reported. And she has quite the history of absolutely hitting the nail on the head when it comes to this whole breastfeeding business. A week ago, she shared another common baby-feeding dilemma. "Say you're eating lunch. You eat lunch from 12-1. When people ask you what time you are lunch, do you say '12' or '1"'?" the mom of two asked. "The time you started or the time you finished? Trying to figure out this baby I have." Elaborating on why she was posing this particular question, she added, "He eats every 3 hours right now. And it can take him 2 hours to eat. So when he is done, he is really just starting."
Mind = blown. Teigen just expertly expressed what it feels like to be responsible for nourishing another human being around the clock with your body. Because that's exactly what it feels like with a newborn, at times — especially during the cluster feeding stage. *Shudders*
In a 2016 interview with ET Online, Teigen had previously opened up about how demanding breastfeeding can be. "The feeding schedule surprised me a lot," she said of feeding her first baby, Luna. "If you kind of do the math, you're kind of breastfeeding for 10 hours a day total. It's very loving and sweet, but it's not easy. It's hard to work your entire day around getting her the nourishment she needs because they are just little animals." Yep. All day long. Breastfeeding is not for the faint of heart, folks.
Teigen told People in a different 2016 interview that she was even forced to Google tips on how to breastfeed better. "I'm like, 'Is it working? Is it taking? I don't think I'm feeling enough pain!' You just get so confused on how it's supposed to feel, and as hard as anyone said it was, I feel like it somehow managed to be harder," she said.
And then there are her accurate AF posts about parenting in general.
I'm sure she won't be stopping anytime time, but please, please, please continue to share the messy, frustrating, and often hilarious side of motherhood, Chrissy Teigen. So many celebrities only show the rosy side of parenting. But not being afraid to show the nitty-grittiness of it all probably has everything to do with Teigen's massive social media following. What struggling parents need more than perfect photos of adorable, smiling children, are moments we can actually relate to. Because then we don't feel as alone, sitting there in our milk-soaked bras.