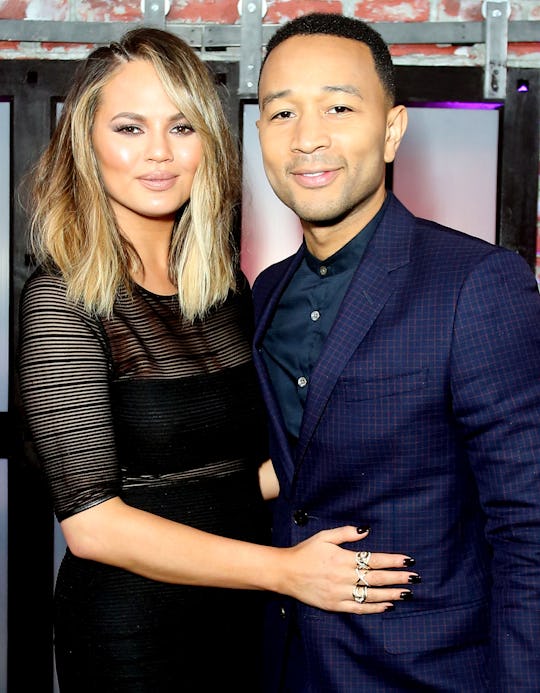 Rachel Murray/Getty Images Entertainment/Getty Images
Chrissy Teigen's Latest Instagram Video Of Luna Shows She's Growing Up Fast
It's been four months since Chrissy Teigen and John Legend became parents, and, well, why not celebrate? Chrissy Teigen's latest Instagram video of Luna honors the very special milestone of her four month "birthday" (or, at least it always feels special to mom and dad!), and shows how quickly their sweet little one is growing. In a text overlay, Teigen made light of the monthly birthday celebration, writing, "I now celebrate monthly birthdays I guess." In the caption, she gave her daughter a shoutout (and an adorable nickname), writing, "4 months. Enjoy the month birthdays while you can, buttbutt!!"
Since prolific social media sharers Teigen and Legend have been so open to sharing photos and videos of their little girl, it's been easy for fans to see how much she is changing and getting bigger. In a separate post on Snapchat Sunday, according to The Daily Mail, Teigen and Legend had some fun filming their daughter using the app's squirrel filter, because seriously, what is cuter than Snapchat-filtered babies? Another thing that is becoming super obvious as she grows? Little Luna is beginning to look more and more like her famous daddy (though she's still a pretty perfect blend of the two of them, looks-wise).
She may only be four months old, but Luna has already become a seasoned traveler, spending part of the summer exploring Europe with her parents. According to People, the family of three visited Switzerland, Italy, and the south of France — looking impossibly chic while doing so, of course. While in Italy, the couple brought their daughter to Lake Como, not only to return to the spot where they'd married in 2013, but also the home where the couple filmed the video for Legend's hit, "All Of Me." In the caption for one of the couple's vacation pics, Teigen wrote,
Back to where it all began - Lake Como, Italy - first came here in 2007. A boat tour guide took us to a little spot on the lake and told us to make a wish. I asked for this to be the man I marry and have children with. I think John asked for the most perfect bite of cacio e pepe. Both came true, and here we are.
In a separate post on his own account, Legend uploaded a photo of Luna, writing, "someone is enjoying her first vacation."
But lucky for them, their trip wasn't the extent of their summer fun. Before heading off on their European vacation, Teigen and Legend spent some time in the Hamptons at an event celebrating Teigen's best-selling cookbook, Cravings. They also spent some family time together watching a game at Dodger Stadium in Los Angeles, decked out (naturally) in custom hats and jerseys.
In other words, 4-month-old Luna is having the kind of summer most of us could only dream of. No big deal, right?