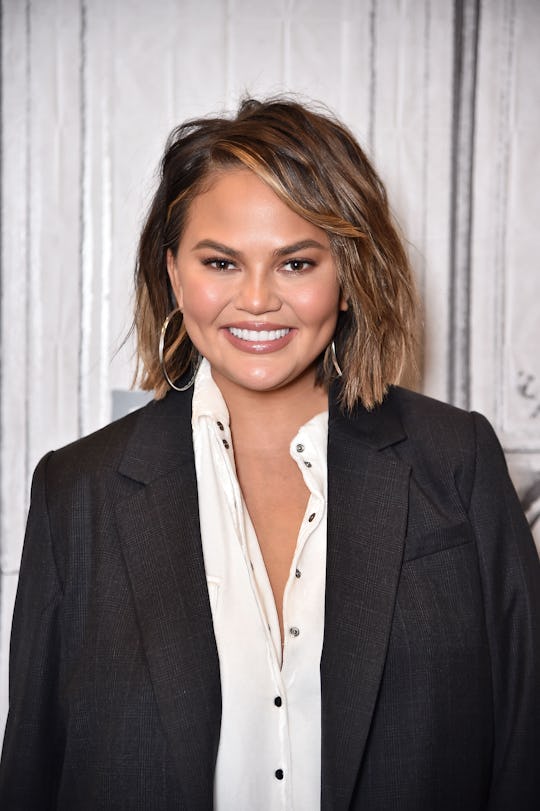 Theo Wargo/Getty Images Entertainment/Getty Images
Chrissy Teigen's Message For Her Makeup-Loving Daughter, Luna, Is Spot On
Navigating the world of makeup with young children can be a tricky one. On one hand, plenty of little kids love experimenting with eyeshadow, lipstick, blush, and more. On the other hand, parents want to make sure kids appreciate their natural beauty — and that they know makeup is just for fun. It can be a delicate balancing act, for sure. With this in mind, Chrissy Teigen's message for her makeup-loving daughter, Luna, is spot on.
The model, cookbook author, and mom of two recently opened up about her toddler's love for makeup. Teigen was speaking with Entertainment Tonight about the launch of her BECCA x Chrissy Cravings Collection with BECCA Cosmetics when the topic of makeup and her daughter came up. And apparently, the eldest child of Teigen and John Legend already knows the ins and outs of everything beauty.
"She knows what each little tool is for. She knows that the brows go up, she knows certain brushes are for certain things, she knows where the lip gloss goes," Teigen said. "But I will say, she's really obsessed with nails. She's a manicure kind of gal." Luna has taken a particular interest in her mama's regimen. "Every single time I'm doing my makeup I have to put her on the counter next to the sink and we're doing it together."
Awww! Teigen definitely has herself a makeup buddy.
Teigen also told ET that she had a piece of advice for Luna, as her love for makeup continues to grow and she starts experimenting with what works for her. "Do things for you," she said. "Do what makes you feel good — don't do it to impress others or to fit in this box for other people. I want her to do what makes her happy." Teigen continued:
I want her to, obviously, embrace her natural beauty, her natural face, her natural curls. She has this head full of beautiful curls and I want her to love that and embrace it.
So yeah. Not only is Teigen's style and sense of humor #momgoals, but she clearly has some pretty damn good advice to dole out, too. Back in April, Teigen — who was still pregnant with baby Miles at that point — opened up to Good Morning America about what advice she'd give to her younger self and to her children. Her advice to Luna was to, "Really enjoy the time of being young and being free, and saying whatever you want!" Which, amen.
As for her advice to her baby boy on the way? Teigen said his father is the best example when it comes to growing up to be an "incredible gentleman." She told GMA, "[John] really is such a champion for women, he surrounds himself with really, really wonderful, strong women ... he's always been really incredible at that. And I think that this baby boy is going to see exactly how to treat a woman just in the way John treats me every single day. We're equals, we're partners, we fight for each other."
Chrissy Teigen really is the best, isn't she? Sure, her no-filter antics and hilarious parenting posts are always good for a laugh. But this funny mom also has a serious side that's equally as awesome. Her wisdom about makeup is not only a reminder for Luna to love her natural beauty — but it's also permission for her to find her own way in a world filled with peer pressure and societal expectations. (And it sounds like Teigen has learned these lessons the hard way — from her own experience.) So listen to your mama, Luna. Because as much as she's bound to embarrass you with her quirkiness in the coming years, your mom's advice is on-point.