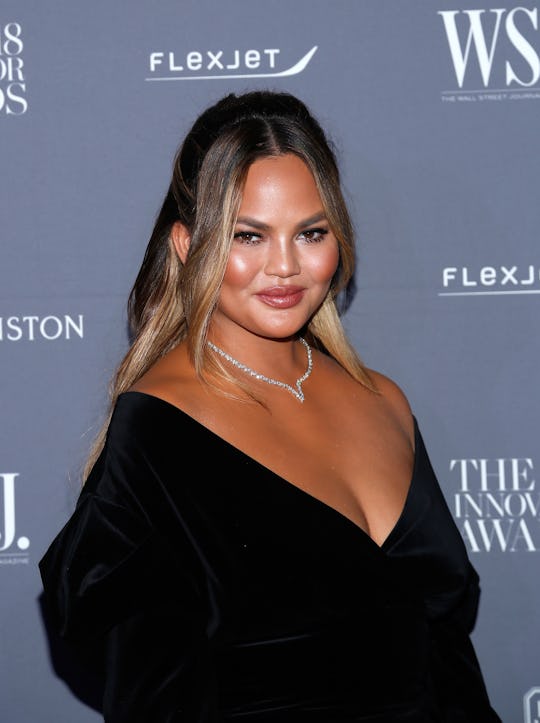 Lars Niki/Getty Images Entertainment/Getty Images
Chrissy Teigen's Message To Trolls About Baby Miles' Helmet Is Too Perfect
It seems like no matter who you are or what you do, internet trolls will find a way to point out exactly how you're doing it all wrong. Especially when it comes to parents of young children. Because apparently, these armchair doctors and parenting experts somehow know it all — and they're not afraid to share their unsolicited advice. Which is why Chrissy Teigen's message to trolls after she shared baby Miles needs a corrective helmet is perfection.
On Monday, Dec. 3, the supermodel, cookbook author, and mom of two took to social media to give followers a heads-up about her infant son, Miles, whom she shares with husband John Legend. As People reported, Teigen tweeted, "Baby miles getting fitted for a little helmet today for his adorable slightly misshapen head. so if you see pictures, don't feel bad for him because he's just fixing his flat and honestly he's probably gonna be even cuter with it somehow." For the record, her prediction was 100-percent correct. That's because a short while later, Teigen shared a photo on Instagram of the aftermath of Miles' fitting, Today reported. And guys, he is just too precious. "My baby bug got his head shaping helmet today," Teigen captioned the picture of her son on her lap. "Please don't feel bad for him if you see photos. he is a happy bug and we are just fixing his flat."
And there he is! Too adorable, right?
In case you were wondering, the most likely reason for baby Miles needing a corrective helmet is because of positional plagiocephaly (also known as flat head syndrome), according to the American Academy of Pediatrics (AAP.) The helmet works by "directing growth from the flat spot" — so it's worn while an infant's skull and brain are still growing. In a few months or so, his "slightly misshapen head" should be good as new.
A slew of fellow parents whose children also had to wear corrective helmets promptly began sharing adorable photos of their kiddos. One Twitter user wrote, "My daughter wore one when she was wee. It was super adorable and not sad and worked wonders!" also sharing three photos of her little one rocking her helmet.
Another mom commented, "Bonus: You can turn him into a minion pretty easily."
Yet another fellow mama chimed in with, "Had to share my girls' helmet photos - amazing what a little paint and some super cute stickers can do! "
Teigen was clearly touched by all of the support and photos. "It is SO cute," she later tweeted. "You guys are very sweet."
However, as Us Weekly reported, plenty of trolls showed up to criticize Teigen and Legend's decision to put their son in a helmet. And this mama bear wasn't taking it lying down. On Tuesday morning, Teigen clapped back with her signature snark and wit, tweeting, "Good morning trolls! Just a friendly reminder that you do not indeed know absolutely everything. Miles has been seeing a physiotherapist — we didn't just go straight to helmet. We tried muscle work and will continue. Also your flat headed kid turned out fine yes yes yes I agree." She added:
Just didn't want you guys to see pictures and wonder. Not promoting anything. Just sharing our story! Thank you back to your bridge now.
But yeah. The trolls definitely need to simmer down and consider that a healthcare professional probably recommended the helmet — and like the loving, caring parents that they are, Teigen and Legend went ahead and followed their baby's doctor's advice. (Because medical degrees and all.) So in case you need me, I'll likely be giggling to myself periodically for the rest of the day because "thank you back to your bridge now" is absolute perfection.
This first-time mom wants to have a home birth, but is she ready? Watch how a doula supports a military mom who's determined to have a home birth in Episode One of Romper's Doula Diaries, Season Two, below. Visit Bustle Digital Group's YouTube page for the next three episodes, launching every Monday starting November 26.