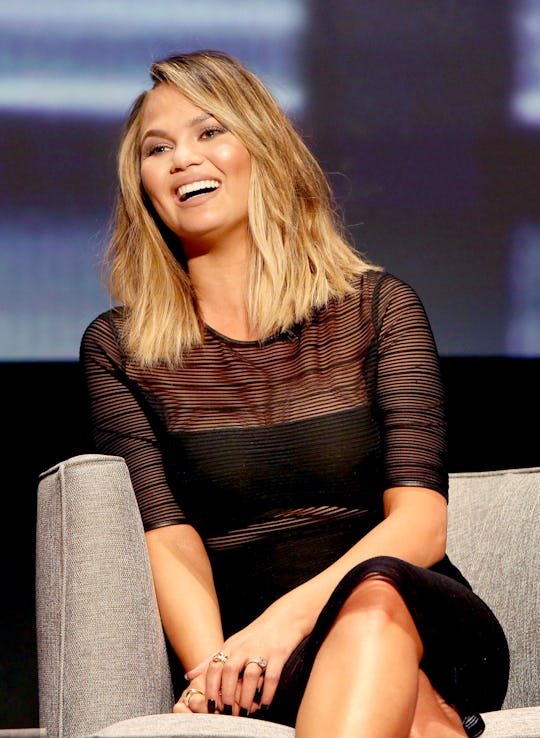 Rachel Murray/Getty Images Entertainment/Getty Images
Chrissy Teigen's Miss Teen USA Tweet Highlighted One Very Troubling Problem
Chrissy Teigen is never one to shy away from speaking her mind, even when it comes to the 2016 Miss Teen USA competition. When the 51 girls competing for the coveted Miss Teen USA crown were narrowed down to the top five at the Venetian in Las Vegas this past weekend, the pageant's Twitter account celebrated by sharing a photo of the finalists. The five young women from North Carolina, Texas, South Carolina, Alabama, and Nevada shared a lot of physical similarities, including their blonde hair, blue eyes, and white skin. True to character, Teigen called out the pageant for its apparent lack of diversity in epic, sarcastic fashion.
Update: In an email statement to Romper, Miss Teen USA spokeswoman Jackie Shahinian said: "On background, as with all our pageants, the top five were chosen by a panel of judges whose scores were independently calculated by Ernst & Young."
"Wow how can we choose from such a diverse bunch," Teigen tweeted, quoting the pageant's original post below.
The pageant itself was recently praised for swapping out it's swimsuit competition for a colorful athleisure clothing competition in the spirit of feminism. Its lack of diversity in the final five, however, did nothing to mend any fences. Chrissy Teigen wasn't alone in noticing the overwhelming whiteness of the competition's final five, but she might have had the funniest take.
Despite making a joke out of it, she faced plenty of backlash on Twitter. The social media savvy model sent out a follow-up tweet to calm the waters, saying,
It's fiiiiiine. Not their fault. I'm sure they are delightful women. Just funny. I'm not gonna write a think-piece on a damn pageant.
(Although, I would definitely read that think piece if she did write it.)
Even though she was being sarcastic, Teigen pointed out a real problem in the 2016 Miss Teen USA pageant. America is one of the most diverse countries in the world. A competition with USA in it's title should reflect that.
The teen pageant's sister competition, Miss USA, was a shining example of what the Miss USA machine can and should look like. Four out of five the finalists in the 2016 competition were women of color. Miss Georgia, Miss Hawaii, Miss California, and Miss District of Columbia, and Miss Alabama were a reflection of the American melting pot.
Deshuana Barber, the winner of Miss USA 2016, spoke with USA Today about diversity in pageants after receiving the crown:
Pageants are nerve-wracking in general. As African-American women, we do face discrimination at times, and it's a natural fear I feel in every single field, whether it's in theDepartment of Commerce when I was working there, or the military, or pageants, or even walking into a store. I'm not the first African-American woman to win the competition, and I think it goes to show not only as a woman of color but as a soldier, an IT analyst, a woman with her masters degree, that the Miss Universe organization is looking for diversity.
Hopefully Teigen and Barber continue to be outspoken about issues like diversity. They can make a lot of noise with their platforms. Fingers crossed people are listening.
Miss Teen USA spokespersons did not immediately return a request for comment.