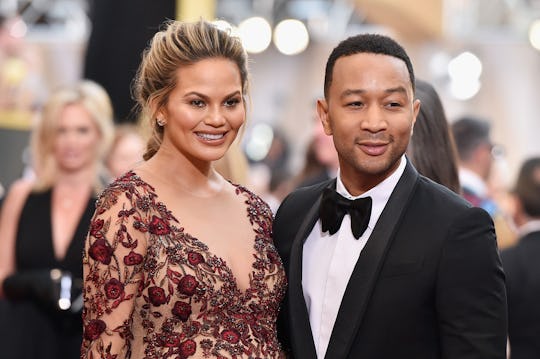 Kevork Djansezian/Getty Images Entertainment/Getty Images
Chrissy Teigen's Mom Shared New Photos Of Baby Luna, & It's Clear The Family Adores Her
Chrissy Teigen is probably everyone's favorite Sports Illustrated swimsuit model. She's hilarious on social media (and in real life), she's kind, honest, and she's an accomplished chef and cookbook writer. Fans know that she's also taken on a new role recently: mom. She and her Grammy-winning husband, John Legend, welcomed their first child on April 14. Not only are they ecstatic, but they've also got a proud grandma, too! Chrissy Teigen's mom shared new photos of Luna Simone Stephens, and they are just adorable.
The celebrity family hosted a crab boil for family and friends on Tuesday, and Vilailuck Teigen, Chrissy Teigen's mother, took to Instagram to memorialize the event. It's no surprise that the guests were all over baby Luna, who is just two weeks old. Even from just a few photos, it's clear that she is being showered with love and affection. The first photo Vilailuck posted from the delicious dinner shows Chrissy in her home, smiling and leaning in to pose with her little Luna and two friends. Chrissy looks healthy, happy, and summery in her jean shorts, gladiator sandals, and off-the-shoulder black top. In fact, she's glowing. According to Us Weekly, one of the women in the photo was a stylist on Teigen's talk show, FABLife. She looks thrilled to be meeting Luna for the first time. Who wouldn't be?
Vilailuck also posted a sweet photo of her daughter holding her new granddaughter and being goofy with some friends. Luna is swaddled in a blanket and all the guests are huddled around her, smiling, laughing, and celebrating. It looks like a great party, and definitely a great way to welcome Lulu, as Teigen calls her.
Vilailuck even snapped a shot of the happy parents. She instagrammed a photo of Chrissy and her son-in-law, Legend, lounging on the couch. Like most new parents, they look exhausted, but happy. She captioned the photo, "Mommy ❤️ Daddy." In the background there are already traces of their new baby: a Mickey Mouse doll and a small red wagon! Probably before too long their entire house will be filled with toys.
Teigen herself even posted some photos later that night to mark the occasion. It's no surprise, given her talent in the kitchen, that the crab boil spread looks absolutely delicious. The feast took place outdoors, under vines, at a long harvest table filled with homemade goodness. With just about 10 guests, it looks like a small and intimate gathering of Teigen and Legend's closest friends. Teigen captioned her photo of the table, "Crabby Day" and finished it off with crab emojis.
She also gave followers a closer look at the chef's handiwork. She snapped a closeup of the main dish and captioned it: "The life!! Having a crab boil at the casa! Thank you, @chefdantecardone!"
The life, indeed! Legend and Teigen look like they are having a great time celebrating their new baby. Luna is one lucky girl.