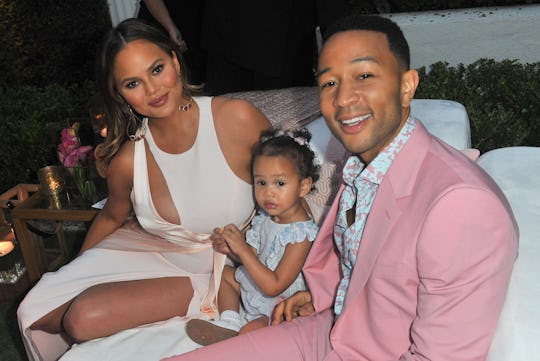 Jerod Harris/Getty Images Entertainment/Getty Images
Chrissy Teigen's New Family Photo Proves Baby Miles Is The Spitting Image Of John Legend
Since welcoming their second child into the world in May, Chrissy Teigen and John Legend have only shared the cutest photos and said the sweetest things about their newest addition, little Miles who joins the couple's 2-year-old daughter Luna. The more they reveal about baby Miles, the cuter he gets (if that's possible...), and you really can tell he is starting to become his own person. And in Chrissy Teigen's new family photo featuring baby Miles, it shows who exactly Miles is taking after so far.
In the photo, posted to Teigen's Instagram account on Saturday, fans got a very good look at Miles' face. Sure, she has posted quite a few photos of her son since giving birth on May 17, according to Harper's Bazaar. But fans haven't gotten a chance to see Miles with his eyes wide open and alert until this past Saturday when Teigen finally posted a photo of her little boy fully awake and hanging out with the family.
In the photo, Miles posed with members of his dad's side of the family. According to People, Miles is with Legend's stepmother Dede and his own grandmother (and Miles' great grandmother), Marjorie Stephens. With Miles being held in Stephens' arms, you can not only tell how much that she looks like her grandson, but also how much Miles looks like his own papa.
Here's a close-up of John Legend for comparison...
Everything about the photo — from the pensive expression on Miles' face, to his raised eyebrows, to his little features not only shows just how grown the little boy has gotten in the past month, but also that he looks so much like his father. He couldn't be any more adorable, and fans seem to agree, taking to the comments section on Teigen's photo to share their thoughts about her son's newest update. "He is such a handsome guy!!!" one commenter wrote. "Looks like John," another commenter added. But one commenter had the ultimate compliment for Teigen and Legend. "You two are the ultimate baby makers," the commenter wrote. "Those genetics = perfection." And they're right; Teigen and Legend have made some adorable babies.
This photo of Miles might just be proof that Legend's genes are super strong — especially since people have also said that Luna looks exactly like Legend. Last year, Teigen shared an old family photo of Legend's, according to Harper's Bazaar, where he looked like a spitting image of their daughter. "Baby John = Baby Luna," Teigen stated in the photo's caption. But to be fair, Teigen did tell a fan on Twitter that Miles resembled Luna as a baby too, according to People — so they both can take after him.
But on the other hand, Miles could so closely resemble his father because Legend just "looks like a baby" in general, as Teigen herself has noted, according to People. Almost one year ago, Teigen pleaded with her followers on Twitter to stop sending her pictures of babies that looked like her husband. "For the last time, John looks like a baby so a lot of babies look like him, stop sending me John babies," Teigen tweeted.
All things considered, it is pretty safe to assume that Teigen is OK with all of us saying that Miles looks like Legend and takes after his dad's side of the family. But just because Miles might resemble Legend doesn't mean that he's going to be a daddy's boy.
In a March 2017 interview with People, Legend revealed that Luna is a "daddy's girl" and he was eager to have a boy so Teigen could feel the same kind of connection with their child. "My wife's a little bit jealous," Legend said. "We've got to have a boy, too, so she can feel that same feeling."
Whatever ends up happening in the future, it's clear right now that those Legend family genes are strong.