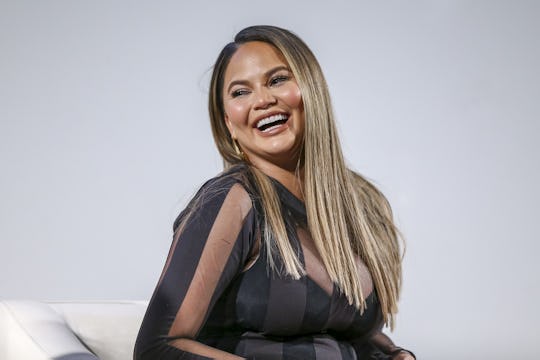 Rich Polk/Getty Images Entertainment/Getty Images
Chrissy Teigen's New Picture Of Miles Celebrates His Due Date In The Most Adorable Way
Just a few weeks after Chrissy Teigen gave birth to her son, Miles, on May 16, she took to Instagram on Thursday to pay homage to his original due date with an adorable pic. You got to love Teigen for spoiling her fans with adorable snaps of baby Miles, right? And as one might expect, Chrissy Teigen's new picture of Miles on his due date also includes a *hilarious* message. Praise be.
It's no secret Teigen has a way with words. The mom of two is always throwing out zingers on her home away from home — aka Twitter — and she has an amazing wit. So, it's really no surprise that Teigen's note to Miles on his June 7 due date is incredibly funny. Teigen captioned a sweet shot of Miles snoozing, according to Instagram:
Today was your original due date but you heard how cool we are since that's all we talk about (how cool we are) and you wanted to see what all the fuss was about, 3 weeks early. Well we tricked u! We are boring AF but we love you!
Ha - you got to appreciate Teigen's sense of humor about Miles' early debut. Although I'm totally for Teigen and her husband, John Legend, talking about how cool they are (because it's true), it's clear this caption is dripping with sarcasm. Did you know that sarcasm is Teigen's super power, by the way? Girl is a pro at it.
My favorite part of the message, however, is when Teigen admits that she and Legend are "boring AF." Celebrities keeping it real is where it's at. It's also sweet that Teigen followed up her "we are boring" admission with a declaration of love for Miles. It's clear Teigen is so thrilled to be a mom again.
As for Teigen's fans, they are blown away by Miles' cuteness in the snap.
"So cute! So exited to watch him grow," one fan penned, according to Instagram. "Thank you for sharing your beautiful family with us!!"
Another person chimed in: "Hahaha Cute (and there's no way on God's green earth you are boring AF). I love how chill and thoughtful he looks here."
"He looks like a little old man in the best way," one person joked.
Most of all, it seems like people are happy to see Miles doing so well. Considering Miles arrived three weeks early, it's understandable that fans are invested in his well-being. The good news is Miles is rocking this whole infant thing like a total champ.
Now that Miles is about to reach his 1-month milestone (time really does fly), reality is starting to set in for Teigen that she's now a mom of two. "Guess we're really doing this kid thing," Teigen captioned a shot of herself with Miles and 2-year-old Luna at the beach, according to Instagram.
Yep, it's safe to say life changes drastically when you add another child to mix. Props to Teigen for braving the beach with a toddler and infant in tow. I imagine *a lot* of prep and planning went into that outing.
Of course, Teigen has plenty of support to see her through this adjustment period. Teigen and Legend are awesome co-parents, and they make it a point to divvy up their responsibilities as parents. Legend said on the topic of co-parenting, according to ET Online:
I don't know if there were a lot of surprises. You're just really learning every day. Part of it is learning how to parent together, because even though Chrissy and I have been together for a long time, we haven't been parents together until the last year. I think you start to learn how to parent together and what kind of responsibilities you want to share and take on.
Gosh, Teigen and Legend are one amazing couple. It's wonderful to see the pair navigate parenting together.
Although Miles' early arrival was a surprise, it's obvious Legend and Teigen couldn't be more thrilled that he's finally here. Legend and Teigen are great parents, and it's awesome to watch their family grow. Happy due date, Miles.