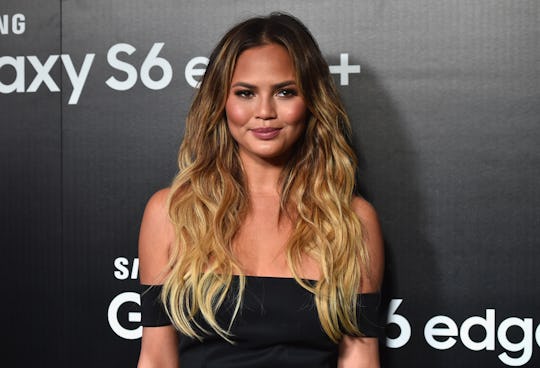 Alberto E. Rodriguez/Getty Images
Chrissy Teigen's New Pregnancy Photo Is Super Cute & Reminds Us Just How Down To Earth She Is
Leave it to the always adorable Chrissy Teigen to make me miss pregnancy and my pregnancy body! How? Well, on Tuesday Teigen posted a pic of her growing baby bump on Snapchat and aw... just aw. (Seriously, I audibly awed when I saw the pic, and than I started searching for onesies and bassinets because I can get pregnant again. Right?) Anyway, I digress. In Teigen's new pregnancy photo, the 30-year-old model, TV host, and super cute mom-to-be showed off her ever-expanding midsection by wearing black leggings and a simple black bralette. And in a caption accompanying the image, Teigen jokingly wrote, "My belly is bigger than my butt!"
Just three months ago, Teigan and her husband — musician John-freakin-Legend — announced they were expecting in a similarly sweet Instagram post, writing,
John and I are so happy to announce that we are pregnant :) As many of you know, we've been trying to have a baby for a while now. It hasn't been easy, but we kept trying because we can't wait to bring our first child into the world and grow our family. We're so excited that it's finally happening. Thank you for all your love and well wishes. I look forward to all the belly touching!
This is Teigan's first child, so it's no wonder that she wants to document each and every step, but this isn't the first time Teigan has proved she is just like you and me. Here are three other times Teigan seemed to be super down-to-earth (and more than happy to show off her laid back style on social media):
Game Day
When the weekend rolls around, there is only one way to do it: Slap on some sports duds and sit in front of the TV. (Well, in my house tend to rock our weekend jammies, but same idea.) The point is Teigan looks comfortable, casual, and happy — genuinely happy — in this Instagram post from last year.
Pizza Time
While we can't all eat fresh Italian pies in — um — Italy (the way that Legend and Teigen did in July last year), most of us do eat pizza. And when we do, we eat lots of it, so this feast of cheese and fat is exactly what I would expect to see at my friends house.
The Now-Infamous Cheese Wheel
OK, a 100-pound cheese wheel (or whatever this thing weighs) may not be the most practical present but the fact that Teigen asked for cheese (cheese!) for Christmas last year (and actually got it — go John!) makes her down-to-earth and super sexy. Yeah, yeah. She's a model, but nothing says sexy like a plate of parm!
No matter what Teigen does, she seems to do it with a smile on her face and a child-like spirit in her heart. She is funny and relatable, and she sure as hell doesn't take herself too seriously. Now if I can only figure out where to get some of that pizza...or a cheese wheel.
Images: Alberto E. Rodriguez/Getty Images; johnlegend/Instagram; chrissyteigan/Instagram (2)