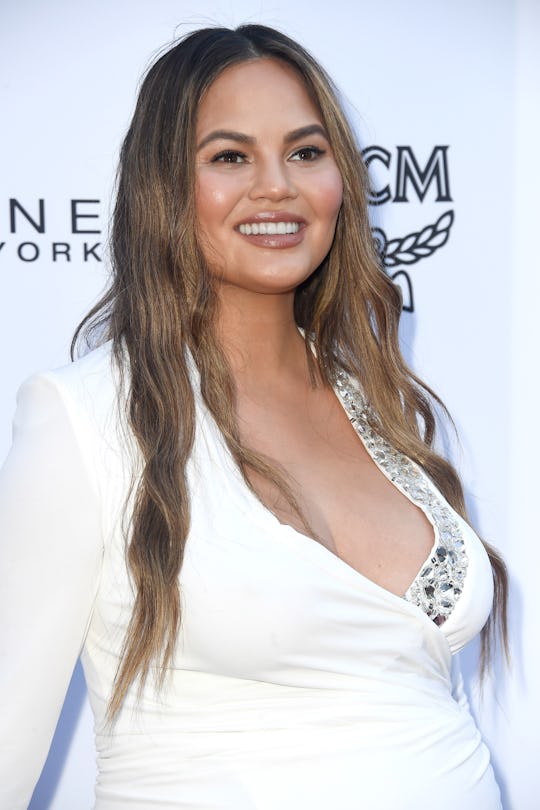 Frazer Harrison/Getty Images Entertainment/Getty Images
Chrissy Teigen Has A Simple & Brilliant Plan For Helping Luna Prepare For Her Baby Brother
It's hard to know exactly how a child will react to a new baby joining the family and lots of parents likely come across this dilemma. When is the right time to tell them that they're getting a new sibling? How do you ensure that the transition goes smoothly? What's the best way to help your little one understand what's happening? Well, Chrissy Teigen has a plan for helping Luna prepare for her baby brother, who will arrive in just a few months, and it's both simple and smart.
In a recent interview with TODAY's Donna Farizan, the Lip Sync Battle co-host discussed how she's helping 2-year-old Luna adjust to her new role as a big sister. "She's sees that something's going on, I think," Teigen said, according to TODAY. "But I don't think she's getting it. Like she'll say 'baby' and she has her little baby dolls that she loves so much and she's always changing their little diapers and burping them and doing cute things with them."
But, Teigen explained in the same interview that she wants her little girl to have more of the fun experience with helping to welcome another child into the family, so she has a plan. "The day that we have baby boy she's going to receive her own little baby boy to take care of it at the same time," Teigen told Farizan. "I hear that's a good thing to do, so we're going to try it."
Luna has known about the baby for a while, helping Teigen with her adorable pregnancy announcement last year when she uploaded a video to Instagram showing the toddler pointing to her mom's belly and saying "baby." Teigen captioned in her trademark humor with, "It's Johns!"
Still, 2 years old is mighty young to really understand what's happening with a new baby once he arrives, so Teigen's plan to have Luna "raise" her babydoll alongside the new baby is pretty ingenious. Her daughter won't feel left out and will be able to learn important lessons like how to be gentle. I wonder if she'll get one of those that they use in schools that has to be properly cared for or it will start crying? Probably not, that can drive anyone mad, let alone exhausted new parents.
According to Parents, children Luna's age — from 2 to 4 years old — can become jealous and show it by reverting to babyish behavior themselves. Parents may see them become clingier or want to start using a sippy cup or sleep in the parent's bed again, as Parents noted. Clinical child psychologist Edward Christophersen, Ph.D. told the publication that thinking of things that will change when the new baby arrives — for example routines may become more rushed — and beginning to change that process well before the baby comes home could help little ones adjust to the change.
Then there's Teigen's plan to have Luna "raise" her own babydoll, which definitely seems like it can only be a smart move, allowing her little one to feel like she has something that is all hers to care for while mom and dad are caring for the new baby. Whether it works, she's sure to let her fans know; Teigen is one of the most open and honest celebrities about everything in life, good or bad.
In 2016, for example, she spoke to SELF magazine about her and Legend's experience with in-vitro fertilization saying, "Emotionally, it could be really hard. When you have these high-highs and low-lows, and you're, like, cuckoo pants."
Then, after Luna was born she struggled with postpartum depression, something kept private until a 2017 essay she wrote for Glamour. In a description that tugs the heartstrings she wrote:
When I wasn't in the studio, I never left the house. I mean, never. Not even a tiptoe outside. I'd ask people who came inside why they were wet. Was it raining? How would I know—I had every shade closed. Most days were spent on the exact same spot on the couch and rarely would I muster up the energy to make it upstairs for bed. John would sleep on the couch with me, sometimes four nights in a row. I started keeping robes and comfy clothes in the pantry so I wouldn't have to go upstairs when John went to work. There was a lot of spontaneous crying.
Teigen's fans — and let's be honest, who isn't her fan —really hope this time around is a much better experience for her. Her sense of humor has become one of the best things on both Lip Sync Battle and Twitter. Recently Legend retweeted a response she made to Bill O'Reilly in which the former FOX anchor disparaged Legend's Jesus Christ Superstar Live role. Teigen quipped back so incisively, it was incredible, and Legend retweeted, "I love my wife." "We all love your wife," replied one user. "Her tweets bless us every day," added another.
As this sweet family prepares to welcome their baby boy into the fold this summer and help little Luna navigate the road to big-sisterhood, Teigen's wise wisdom may help countless parents going through the same thing. And, as her legion of fans know, Teigen will more than likely provide honest updates about this exciting, but tricky transition.
Check out Romper's new video series, Bearing The Motherload, where disagreeing parents from different sides of an issue sit down with a mediator and talk about how to support (and not judge) each other's parenting perspectives. New episodes air Mondays on Facebook.