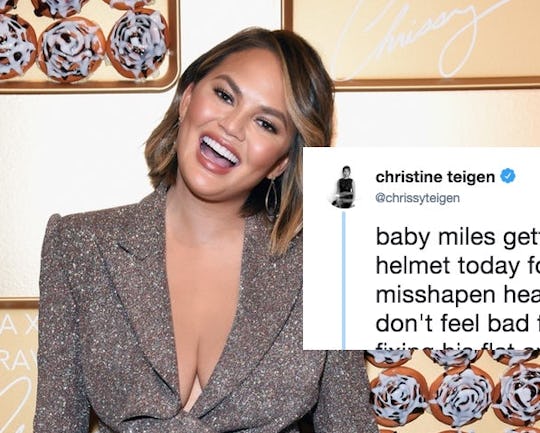 Presley Ann/Getty Images Entertainment/Getty Images
Moms Sweetly Respond After Chrissy Teigen Shared Miles Needs To Wear A Baby Helmet
Along with being a literal supermodel, published author, and television star, Chrissy Teigen is known for being a down-to-earth celebrity voice for mothers everywhere. Her candid nature often sparks criticism, but it also inspires some seriously sweet solidarity as well. Most recently, Teigen's post about her son Miles' corrective helmet prompted moms on Twitter moms to start a thread of adorable babies in similar helmets.
Teigen tweeted on Monday that her son Miles Theodore would be donning some corrective headgear to help with his "adorable slightly misshapen head," as People reported. When I saw Teigen's tweet on my timeline, my first thought was "Oh no." Not because I was worried about little Miles — Plagiocephaly, also known as Flat Head Syndrome, poses no threat to the baby, as USA Today reported — but because I was bracing myself for the inevitable onslaught of shaming from the all-knowing-expert-moms-of-the-internet. However, I was pleasantly surprised to find the exact opposite in the responses to Teigen's tweets.
Rather than come at her for the flattened soft skull plates on Miles' head, which can occur when a baby is in one position for too long, the moms of Twitter shared photos of their own babies being treated for the condition.
"Baby Miles getting fitted for a little helmet today for his adorable slightly misshapen head," Teigen tweeted. "so if you see pictures, don't feel bad for him because he's just fixing his flat and honestly he's probably gonna be even cuter with it somehow."
Shortly after the tweet, Teigen shared an update to her Instagram showing Miles wearing his new helmet. "My baby bug got his head shaping helmet today," she captioned the sweet photo.
After Teigen tweeted Miles' big news, other proud parents on Twitter responded with a flood of photos of their own "little bugs" wearing helmets.
Parents were in agreement that the helmets only made their children more adorable.
Just when I thought the helmet feed couldn't get any cuter, one user shared photos of two of her children in corrective headgear that had been beautifully decorated. "Amazing what a little paint and some super cute stickers can do," she wrote. Amazing, indeed!
Another pointed out that this kind of helmet makes easy work of Halloween costumes, sharing a photo of herself and her son in matching Minions costumes.
There was even an Amelia Earhart themed helmet in the mix, and I seriously can't handle the sweetness here, folks.
As one mom pointed out, baby helmets are a good thing. By comparing them to "braces for his head," she makes it clear that Teigen is just doing what is best for her son. The American Academy of Pediatrics explained that these helmets "work by directing growth from the flat spot" and therefore must be worn while the skull — and the little baby brain contained in it — is still actively growing.
Overall, plagiocephaly is a fairly common condition. "I see patients all the time with this problem," Mark A. Mittler, co-chief of the pediatric neurosurgery division at the Steven and Alexandra Cohen Children's Medical Center told The Washington Post. Mittler went on to say that flat heads on babies have been prevalent since 1992, when the AAP started recommending that parents put their babies to sleep on their backs to prevent SIDS. Fortunately, the issue is generally resolved within the next six months to a year.
"It is SO cute. You guys are very sweet," Teigen tweeted after seeing the long thread of babies in helmets like Miles'. And in a time when mom-shaming online is all too prevalent, it is honestly refreshing to see so many parents lending support to a celebrity mom just trying to do the best thing for her son.
This first-time mom wants to have a home birth, but is she ready? Watch how a doula supports a military mom who's determined to have a home birth in Episode One of Romper's Doula Diaries, Season Two, below. Visit Bustle Digital Group's YouTube page for the next three episodes, launching Mondays in December.