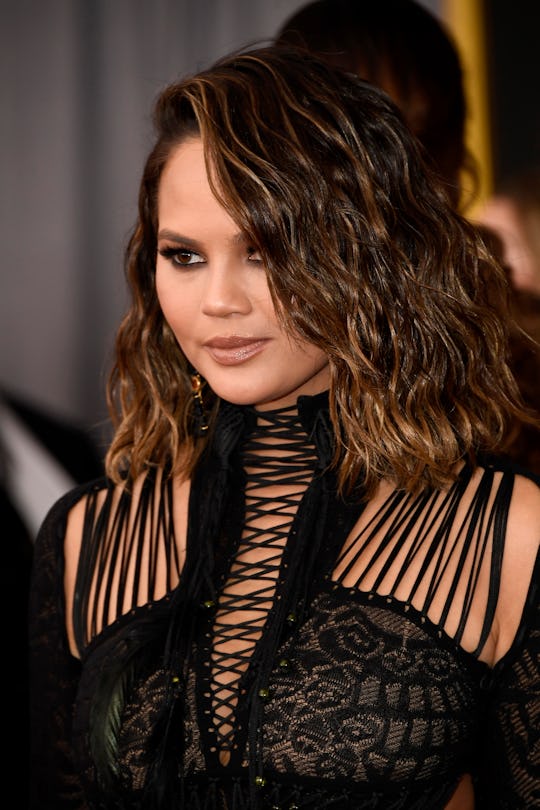 Frazer Harrison/Getty Images Entertainment/Getty Images
Chrissy Teigen's Cover Of "7 Years" Is Stunning
If you aren't currently in love with Chrissy Teigen, then, I'm sorry, but you're wrong. The model, television personality, wife, mother, and social media goddess is probably the most relatable celebrity out there, as her Twitter feed can verify. This past Sunday, Teigen documented her experience at the 2017 Grammys via her Snapchat, Twitter, and Instagram accounts. And while not everyone has the privilege of hanging out with the rich and famous at music's biggest night, Teigen made it feel like all her followers were right there with her the entire night. Late Monday, Teigen uploaded a new post to her social media feeds that has everyone talking — not only that, Teigen's latest post-Grammys Instagram video will make you cry laughing.
The video itself features Teigen singing and dancing in an... interesting manner, while singing a phenomenally personalized version of singer-songwriter Lukas Graham's hit, "7 Years." Teigen hilariously captioned the video, "my stylist @MonicaRoseStyle just sent me this from last night... I mean how and why does anyone work with me." As a new mom, Teigen definitely deserves to let loose and have some fun, which is one of the reasons the model is so popular and well-liked — and if you're already a dedicated follower, this new video will make you love her even more.
Buckle up, kiddos. Your Valentine's Day is about to get a whole lot more exciting:
So, yeah. There it is. Feel free to re-watch it as many times as necessary. I myself will probably be falling asleep to the video.
Now, it's clear that at the start of the clip, Teigen is doing her own rendition of Graham's "7 Years," but then, it kind of deteriorates into Teigen basically just rambling. Admittedly, though, her rambling is hilarious and somehow still catchy. But, for purely journalistic purposes, here is the original song Teigen was (maybe? probably?) performing:
Of course, while Teigen's entire social media presence is downright hilarious, her posts from Grammy night were especially laughable. One of her most popular videos, which she shared via Snapchat, featured Teigen laying on the floor after getting home from the Grammys, and her husband, John Legend, taking her jewelry off of her. She then later asked John if he was mad at her for getting drunk, to which he had the absolute best response: "Why would I be mad at you? You're perfect." That's #CoupleGoals.
Yes, Teigen and Legend are definitely relationship goals, and Teigen's latest video is proof that she is undoubtedly the funniest celebrity on Instagram.
So, go ahead. Watch the video again, and again. This is a judgement free zone.