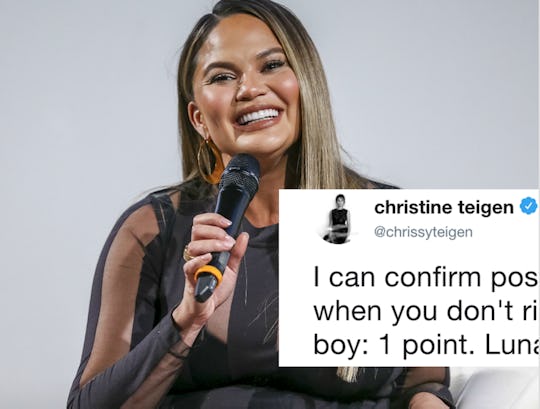 Rich Polk/Getty Images Entertainment/Getty Images
Chrissy Teigen's Postpartum Tweet Is So Real It Hurts, Like Really Bad
Chrissy Teigen's honesty about motherhood and childbirth is something to be admired. While most people would shy away from oversharing or going too in depth into all of the gritty details involving motherhood (especially labor), Chrissy Teigen takes the alternate approach. Just days after giving birth to her second child, Chrissy Teigen's postpartum tweet filled with brutal honesty might hit a little too close to home for some moms who tend to shy away from the dirty details.
The days after giving birth to a child can be hard for every mom. Not only are they getting use to adjusting to life with a new child, they're more than likely not sleeping very much and not focusing on themselves — oh and their bodies are still in recovery after having a (roughly) eight pound baby taken out of them. Yeah, the postpartum period can be tough and Teigen definitely knows this to be true.
After giving birth to her first child, a daughter named Luna, with her husband, John Legend in 2016, according to Entertainment Tonight, Teigen was rich with experience heading into the birth of her second child this week. And now that Teigen gave birth late last week, according to Us Weekly, she can now compare her postpartum experiences from both births. From the sound of it, she is doing considerably well compared to her first time giving birth. In a tweet on Saturday night, Teigen shared that giving birth to her son was different than her first time giving birth because he did not "rip" her to her "butthole." Brutal. Just brutal.
Some parents will tell you that they don't have a favorite child. But when one child leaves you in pain for months during the postpartum recovery process and the other doesn't, you might be partial to one over the other. This is exactly what Teigen displayed in her tweet — and it's no wonder why she might like her son a little more now, especially since her life is "90 percent better" due to her second son's labor happening rather smoothly.
Although this postpartum update might literally be painful for some moms to read who left those nightmares in the past, it's a helpful (albeit graphic) update for Teigen fans. When you read between the lines, Teigen's tweet tells fans that her postpartum recovery process is going well, she is happy as a new mom of two, and she is back to feeling like her normal self (especially since she has been regularly tweeting her followers since giving birth).
Now that Teigen is keeping score for both of her kids, she revealed that there is one thing that gives her son and her daughter equal points — their shared cuteness. On Friday, just two days after announcing that she gave to her son (whose name has not yet been revealed, according to HuffPost), Teigen revealed on Twitter that her son shares similarities with Luna, according to People, like the same nose. "He is a few weeks early so he's little and makes the tiniest noises," Teigen tweeted. "We are in love."
Although Teigen is anything but subtle (which was made clear by her tweet from Saturday) her birth announcement was just that. On Wednesday night, Teigen announced her son's arrival on Twitter with just two words and a few emojis, according to E! News — with no name, weight, or time of birth to go along with the announcement. "Somebody's herrrrrrrre!," Teigen tweeted.
But just because Teigen made a pretty low key pregnancy announcement doesn't mean she is going to continue with this trend. Based on her tweet on Saturday, there are plenty more updates from Teigen to come. But rest assured from her tweet, she is enjoying her recovery and life as a mom of two, especially since her second birth went a little smoother and treated her body just a little more kindly.