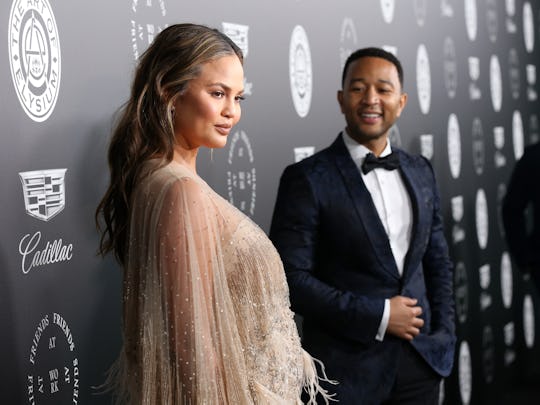 Phillip Faraone/Getty Images Entertainment/Getty Images
Chrissy Teigen's Reaction To Her Own McDonald's Commercial Is So Relatable
During the 2018 Golden Globes, Chrissy Teigen wasn't spotted in the audience or on the red carpet, but instead appeared in one of the commercials. But it wasn't the commercial that got people talking — it was Chrissy Teigen's reaction to her own McDonald's commercial that fans absolutely loved.
In case you missed, the commercial itself showed Teigen pulling up to the McDonald's drive thru saying, "Can I have a 'they never feed you at those things' please?" Teigen is referring to the fact that at most award shows attendees aren't given food. Although to be fair the Golden Globes does provide dinner and alcohol, but that's besides the point.
In the commercial, Teigen is seen going through her swag bag, thoroughly disappointed by the lack of food inside. Determined to stave off her hunger, and the hunger of the other attendees around her, Teigen makes a McDonald's run and returns with cheeseburgers and chicken sandwiches for everyone. And, of course, each sandwich was only $1.
After the commercial aired Teigen quickly took to Twitter to ask her fans, in all caps, "ARE YOU SO PROUD OF ME!" Her fans were quick and happy to reply that not only were they proud, they were also on their way to get McDonald's.
Despite what the commercial implied, Teigen wasn't actually at the Golden Globes Sunday night. Instead, she was at home enjoying "taco day" with her family, as she informed her Twitter followers earlier in the evening. Teigen also tweeted that she hadn't "Made a hard-shell taco with taco seasoning since 1998" and noted that the occasion was "very exciting." When asked how she knew the exact year she hilariously replied that she did because "it was the year I learned that baking soda puts out fires."
It's no secret that Teigen loves to cook and play around in the kitchen. Teigen debuted her first cookbook, Cravings: Recipes for All the Food You Want to Eat, back in 2016, and fans have been anxiously awaiting her second cookbook ever since. Until then, she's been keeping fans up to date on her cooking via social media, making all of them hungry and envious of her kitchen.
Although tacos are definitely a good reason to stay home, it wouldn't be surprising if Teigen just wanted to take the night off and just relax with her family. Teigen is expecting her second child with her husband, John Legend. The couple welcomed their first child, Luna, into the world in 2016.
Teigen and Legend had a busy weekend already, attending the Art of Elysium's 11th Annual Gala on Saturday night. Legend was honored at the annual event, where he brought in poets, musicians, and comedians to provide the evening's entertainment. Legend also did a performance for the crowd. After having what looked to be an extraordinary night out, it's totally fair that Teigen, and Legend, wanted to take a night off and just hang out with their family. Plus, neither of the stars were nominated for a Golden Globe this year so they didn't have to be in attendance.
Still, it would've been lovely to see Teigen and Legend, one of the best Hollywood couples, in my opinion, rock the red carpet together. Regardless, it was great to still witness Teigen on TV screens Sunday, even if it wasn't in the way most fans probably expected. Despite being a short commercial, her fun personality and always very honest words still shined through, and Teigen's reaction just made the whole thing perfect.
Check out Romper's new video series, Romper's Doula Diaries:
Watch full episodes of Romper's Doula Diaries on Facebook Watch.