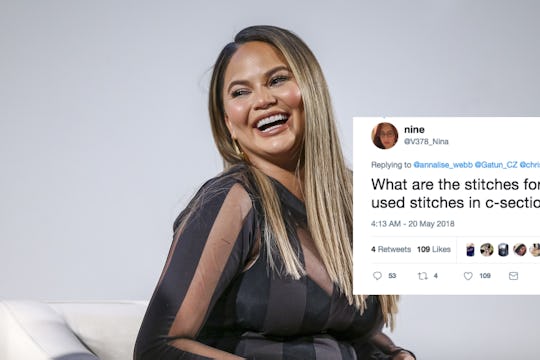 Rich Polk/Getty Images Entertainment/Getty Images
Chrissy Teigen's Response To A Fan Who Asked Why She Has Stitches Will Make Moms Laugh So Hard
Giving birth is not always a glamorous thing. In fact, it probably never is, despite what all those professional photos littering your social media feeds would like you to believe. Typically, laboring moms do not become the glowing embodiment of new life before giving two easy pushes and shedding a single tear as their newborn is placed into their arms. It does not go like that. There's blood. There's sweat. There are all kinds of bodily fluids and organs you couldn't have imagined. It can get real, which is why Chrissy Teigen's response to a fan who asked why she has stitches will make moms laugh so hard.
On Sunday, Teigen responded to a fan who was inquiring why she'd be tweeting about having stitches, given that she didn't have a C-section. The day prior, she talked about how her new son, Miles, had a foot up on his sister in that regard: "I can confirm postpartum life is 90% better when you don't rip to your butthole. Baby boy: 1 point. Luna: 0," she wrote. The fan then responded: "What are the stitches for? I thought they only used stitches in c-sections?" Echoing the sentiment of every mom who has ever been through delivery, Teigen replied: "lol bless you this is so cute."
Teigen is referring, of course, to vaginal tearing that sometimes occurs during delivery. Parents reported that the term refers to spontaneous lacerations to the perineum (the skin between vagina and rectum) that sometimes occurs during a vaginal delivery. The American Congress of Obstetricians and Gynecologists stated 53 percent to 79 percent of vaginal deliveries result in tearing, according to Self.
It is also possible — though not as common — for a doctor to make an incision in the perineum themselves, prior to natural tearing. This is called an episiotomy, and Mayo Clinic reported that, traditionally, it was thought to be a preventative measure serving to help preserve muscular and connective tissue support, but that's not always true. Mayo Clinic also reported that recovery is difficult, there's a risk for infection, and pain post-delivery. However, physicians may deem it necessary if the following criteria are met:
It seems likely that there will be a significant amount of vaginal tearing.
The baby is positioned abnormally.
The baby is larger than what is considered normal, or safe, otherwise known as fetal macrosomia.
Due to an emergency situation, the baby needs to be delivered urgently.
Regardless, vaginal tearing during delivery is a pretty common and very normal phenomenon, and all new moms should be aware of what it involves, regardless of whether or not they experience it themselves.
Fans know that Teigen is brutally honest when it comes to all things that have to do with childbirth, parenting, and well, life in general. A few days after giving birth to Miles, she posted a photo of herself on Instagram showing off her mesh panties (as Allure reported, it's a favorite amongst moms, as they hold postpartum pads in place, and can be thrown out at the end of the day).
Teigen and her husband John Legend welcomed their second child, a son, on May 17. Teigen first announced Miles Stephens' arrival by tweeting: "Somebody's herrrrrrre!" Later, she teased that he and older sister Luna looked alike, telling Twitter that they have the "same nose," and then posted the first photo of her son to Instagram. "Hello, world! This is Miles Theodore Stephens - We are drowning in his little peeps and nuzzles," she wrote. "Our household feels overwhelmed with love. Thank you for all your well wishes!"
It seems the Stephens family is adjusting to life as a foursome... mesh panties, stitches, sibling quarrels and all.