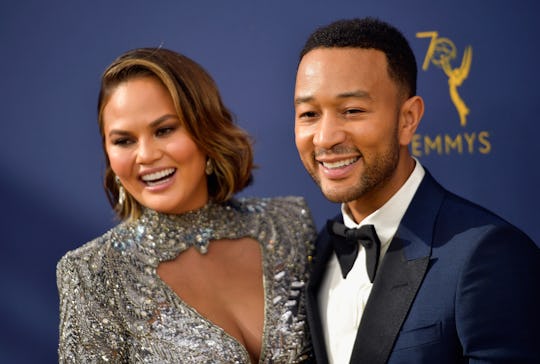 Matt Winkelmeyer/Getty Images Entertainment/Getty Images
Chrissy Teigen's Response To A Twitter User Asking If She Is Pregnant Is Golden
A good rule of thumb — unless you want to risk deeply offending someone while making yourself look like an *ss in the process — is to never, ever ask a woman if she's pregnant. Ever. Unless the woman has personally revealed to you that she is indeed expecting a child, it's just best to keep your mouth shut. Because who knows what's actually going on? She could just be bloated. She might have just lost a pregnancy. Or maybe she recently gave birth. That's why Chrissy Teigen's response to a Twitter follower who asked if she was pregnant again deserves a slow clap.
On Monday, Sept. 18, Chrissy Teigen attended the 2018 Emmy Awards with her husband, John Legend — who was nominated for outstanding lead actor in a limited series of TV movie for his role in Jesus Christ Superstar Live in Concert, according to CNN. Teigen stepped out in a dazzling, long-sleeved Zuhair Murdad gown, Hollywood Life reported. (And she totally rocked it, guys.)
While enjoying her kid-free night out, Teigen took a moment to respond to a rude Twitter user who asked the unthinkable. "I'm asking this with the utmost respectful, but is @chrissyteigen pregnant again? 🤯," the person wrote, reacting to a photo of the mom of two at the Emmy Awards, according to People. From the event, Teigen didn't waste any time putting this guy in his place. She tweeted, "I just had a baby but thank you for being soooo respectful." (Ouch!) But seriously, though. Teigen delivered her second child — a baby boy named Miles — in May. What was this guy thinking?
Let's just say Teigen's fans had a lot of feelings about the fact that some random internet dude had the balls to ask the mother of a 4-month-old infant if she was pregnant again. One Twitter user wrote, "Is this guy for real right now? OH HELL NAWWWWW .. he makes me wanna utilize the new Chrissy teigen x target knife set rn."
Another follower commented, "Rule #1. Never ask a woman if she is pregnant. Even indirectly."
Another Twitter user agreed with this sentiment, writing, "I'm an OB and I NEVER ask unless I've seen the pregnancy test, heard cardiac activity, or seen the ultrasound."
Yet another follower chimed in with, "I taught my sons that the ONLY acceptable time to ask a woman if she is pregnant is if the baby is actually coming out of her. And even then they should act surprised. Take a note."
Others pointed out that Teigen looked absolutely stunning while walking the red carpet. One person wrote, "If I look that good 4 months after giving birth . . . I actually don't know how to finish that sentence. I pray to GOD I look that good 4 months after giving birth."
Still others were amused/impressed that she was responding to internet jerks from the Emmy Awards. One Twitter user wrote, "I love how Chrissy is tweeting clap backs from the Emmys #yasssqueen."
First of all, here's a fun fact: A woman's uterus typically takes about a month to shrink back down to its pre-birth size, according to BabyCenter. After that, a fair amount of women can still look "pregnant" for months after delivering a baby. Because newsflash: The abdominal muscles get stretched out just a tiny bit during the act of growing a tiny human. So it takes both time and regular exercise in order to get that belly back into shape.
Honestly, I'm so annoyed by this dude's lack of common sense, that I'm not even sure what else to add to the conversation at this point. Perhaps this "fan" didn't know that Chrissy Teigen had recently given birth? Maybe he really is utterly clueless about how long it can take for a woman's body to recover from childbirth. Whatever his "excuse," hopefully Teigen's response — along with the support of her army of followers — taught him to never ask another woman this question again.