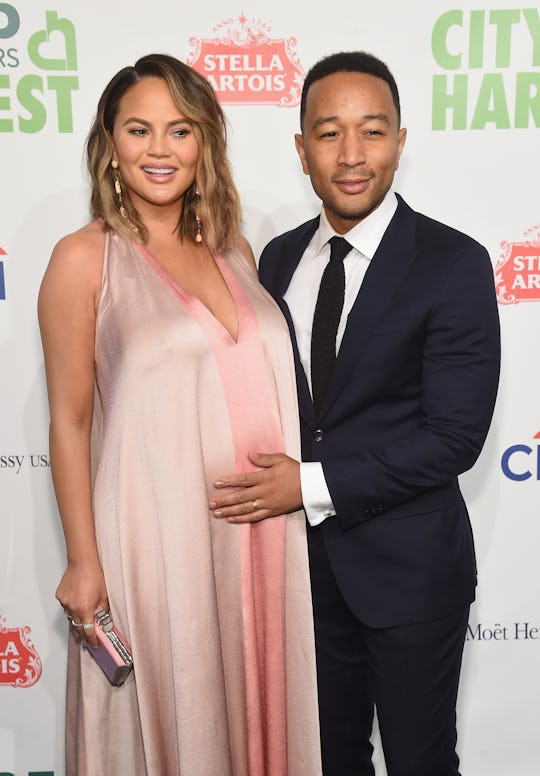 Jamie McCarthy/Getty Images Entertainment/Getty Images
Chrissy Teigen Has Revealed Her Son's Name & It Is So, So Adorable
Chrissy Teigen and John Legend are two super cute parents to their daughter, 2-year-old Luna. So when they welcomed their second child, a son, on Wednesday, people were pretty excited to say the least — even if they didn't release his name or a photo of him at the time. But that moment has finally arrived. On Sunday, she shared a photo of their son on Instagram and Teigen's son's name is so adorable and seems to fit the little boy so well.
This moment is something that fans have been waiting for, ever since Teigen subtly announced the birth of her baby boy on Twitter on Wednesday. In the tweet, Teigen revealed that the baby had arrived — and that is all she said. It was a little frustrating. But given that fans know that Teigen loves sharing things, they knew they would be seeing the little boy and find out his name eventually.
Teigen revealed on Sunday that his name is Miles Theodore Stephens and it is absolutely perfect for her son. In the photo Teigen shared on Instagram, Miles propped his head up on his tiny hands looking into the camera with his eyes closed and mouth open. The baby, already, looks so at peace and you can tell that Teigen and Legend can not get enough of their son.
There are so many factors could have gone into the fact that Teigen and Legend named their son Miles. Miles means "soldier" in Latin and has Irish, Greek, and English roots, according to Babble. In all of these origins, the name Miles carries a strong image. In English, Miles means "merciful," in Greece it means "destroyer," and in Ireland the name means "servant," according to Babble. All of these words are ones that anyone would be honored to be named after and emulate. I mean, "destroyer" is a little harsh for such a sweet looking boy, but could show just how strong Teigen and Legend's baby could grow up to be.
Miles could also have been named after someone, too — like a family member or say, famous jazz legend Miles Davis. Legend, who is a pianist and very popular singer has cited Miles Davis as an inspiration, according to Fader. "Miles just represents cool," Legend told the magazine. If Legend thought Miles Davis represented something super cool, then he could have wanted the same for his own child. But until Teigen and Legend come out and say who they named their child after or why they chose the name, everything is just pure speculation.
Miles certainly lives up to the "soldier" namesake. In February, Teigen revealed to Ellen Degeneres during an appearance on The Ellen Show that she was due in June of this year, according to Us Weekly. But Teigen ended up giving birth in the middle of May. Teigen even admitted to fans on Friday that her son arrived earlier than expected on Twitter. "He is a few weeks early so he's little and makes the teeniest noises," Teigen tweeted. Miles soldiered on into the world a lot sooner than he was supposed to, which allowed him to live up to the name.
However, if you were wondering how Teigen and Legend got "Stephens" out of both of their last names, you're certainly not alone. John Legend is actually a stage name for the musician who was born "John Roger Stephens," according to PopSugar. When he and Teigen gave birth to Luna, they gave her his original last name. So it makes sense that Miles would have the same last name as his baby sister and not the hypothetical one that his father goes by in public as a musician. So there you go.
Miles could not be any cuter and his name sounds absolutely perfect on the little boy. Now that Teigen has finally shared this vital information with fans, hopefully there will many more photos and updates of Miles to come in the near future.