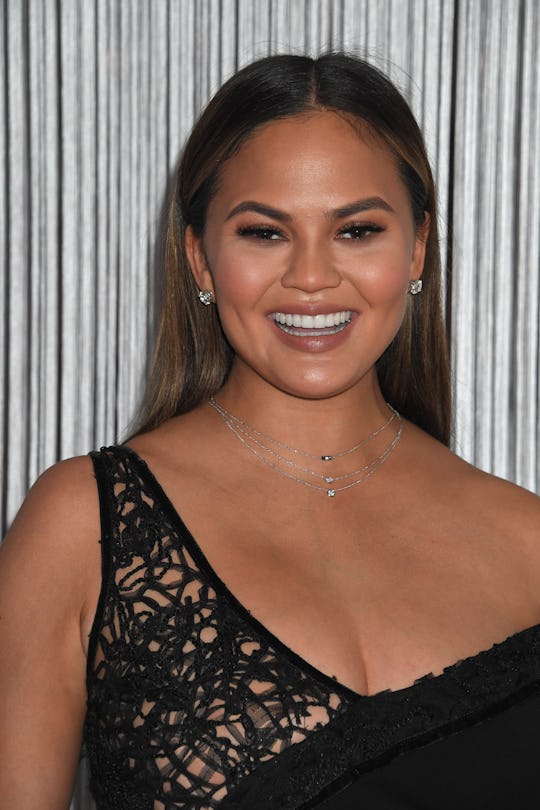 Jennifer Graylock/Getty Images Entertainment/Getty Images
Chrissy Teigen's Struggle In Finding A Unisex Baby Name Is *Too* Real
In this day and age, it is almost impossible to find unisex things for children — from clothing, to toys, to even names. While (so much) progress is being made to help this, it isn't easy, and even celebrities know this to be true. On Saturday, a pregnant Chrissy Teign tweeted about this and her struggle to find a unisex name for her unborn baby is entirely too real.
Teigen announced that she and husband John Legend were expecting their second child in late November, according to People, after telling fans the very exciting news on their social media accounts. The super hilarious and cool couple are already parents to 1-year-old daughter, Luna, who might be one of the cutest celebrity babies, ever. Since making the big announcement, Teigen has continued in her trend of being incredibly vocal on social media, sharing all of her opinions, thoughts, and pregnancy updates on her favorite website, Twitter.
Although Teigen isn't due for a while, according to People, she is doing what every expecting mother does and is preparing for the arrival of her second child — like looking at baby names. And although Teigen has not revealed the sex of her second child, it appears as if they're not finding out the gender just yet, because Teigen was looking at gender neutral baby names. Even though she's looking through gender neutral names, it appears as if she isn't too happy with them. "Jesus Christ my baby will have no name," Teigen tweeted, after sharing a photo of some pretty interesting unisex baby names.
Now don't get Teigen wrong, it's not like those names are awful (Basil Legend does have a certain ring to it). But finding the perfect name, especially for a child you've never even met before, is a big enough struggle as it is, let alone finding a gender neutral name that fits all requirements that parents set out.
Teigen then followed up, joking with followers that she decided on naming her child Blaze Legend. If that isn't the perfect name fit for a future of being a daredevil, rapper, or classic novelist, then I don't know what is.
Teigen is incredibly justified in her struggle, as finding the right gender neutral name can be hard for all parents. But while finding a gender neutral name might have been unheard of a few years ago, it is now becoming more common. Unisex baby names are on the rise, according to FitPregnancy, with parents allowing their children to form their own identities. Since 1985, unisex baby names have risen 88 percent, according to a 2016 story from the New York Times. Like clothes and toys, gendering names is just silly and shouldn't have to provide an instant gendered label for the person with that name. Linda Murray, the editor in chief of BabyCenter at the time, told the New York Times:
Today's parents have moved beyond the dichotomy of boy and girl names. They want their children to grow up and be themselves, free from stereotypes. Boys can wear nail polish and girls can ride skateboards, it's all good.
While there are plenty of lists on the internet that provide gender neutral name suggestions, expecting moms will always continue to doubt the names that they picked out for the baby, regardless of the insecurity in their choice. If Teigen really does want her baby to remain nameless, she wouldn't be the first mom to do so. One man did not have a legal first name for almost 19 years until he chose a name for himself, according to BabyCenter.
Luckily, Teigen will have plenty of time to think of the perfect name for her baby before their arrival in the new year.
Check out Romper's new video series, Romper's Doula Diaries:
Watch full episodes of Romper's Doula Diaries on Facebook Watch.