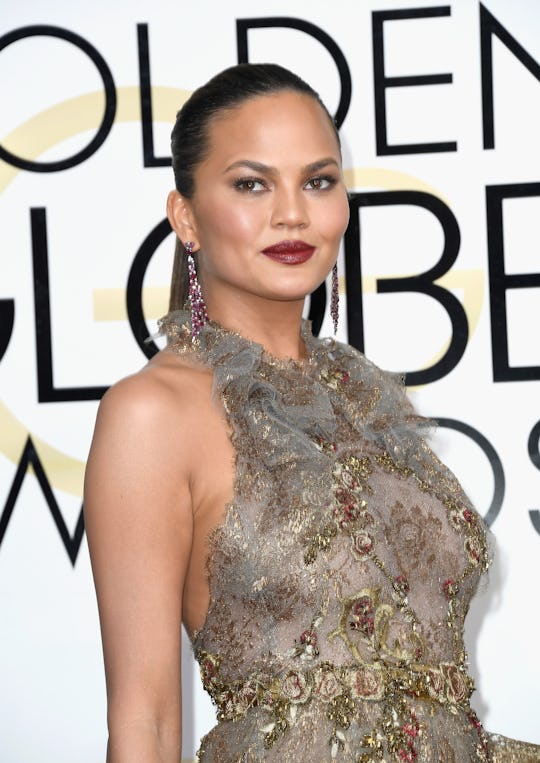 Frazer Harrison/Getty Images Entertainment/Getty Images
Chrissy Teigen Takes Sean Spicer To Task
Don't you just love First Amendment rights? They're pretty great. Freedom of religion, freedom of speech, freedom to assemble, to petition. Am I forgetting anything? Oh, right, our First Amendment rights also include freedom of the press, much to the dismay of many conservatives. It doesn't seem that special, or even notable, really, when we have a thousand news sources all within reach, and even platforms such as Twitter and Facebook to see constant, up-to-date information in real-time. But, unfortunately, our new president and his administration don't seem to understand this notion, or the importance of the press at all. Probably because the facts are stacked against him, and he doesn't like that, so Trump rules it out as lies, or biased media. But with his new job also comes new appointees, like a new press secretary. And on his first full day in office, what did Trump and his press secretary, Sean Spicer, see as crucial information to be released at his first press conference in office? His first press conference focused almost entirely on the crowd size at Trump's inauguration. Fortunately for us, though, feminist goddess Chrissy Teigen is here to put Trump in his place, and Teigen's tweet about Trump's press briefing is on fire.
According to several sources, the inauguration on Friday had a crowd of about 250,000, and has been the source of much talk in D.C. lately. And while, of course there are much more pressing matters facing this country, that didn't stop Spicer from spending the majority of his first press conference spewing defenses about Trump's inaugural crowd size. "This was the largest audience to ever witness an inauguration, period, both in-person and around the globe," Spicer said, incorrectly, berating reporters in the same breath.
Teigen, a short while later, responded, tweeting,
People in pain. People need jobs. People need healthcare. People want equality. But let's have a press conference on crowd size. My god.
Teigen, of course, has never really been shy about her political standings. In the past, Teigen and her husband, John Legend, have posted about their support for Hillary Clinton, and after the election, the two also posted about the collective heartbreak of the nation.
Teigen also surprised many on Friday when she tweeted her impromptu plans to ditch a fancy, glamorous celebrity event, and instead head to Washington, D.C., to march with her fellow women.
In just one tweet, Teigen managed to summarize many of the pressing issues that drew such large crowds to march on Saturday, such as "healthcare," and "equality." And to juxtapose the needs of the nation with the actions of an administration — which has a habit of making everything about size or level of glamor or luxury, a seemingly egotistical move — Teigen managed to put into words the things Americans really want to know, such as how Obamacare will be replaced if it is, in fact, repealed, and whether or not people's rights will be rolled back in a Trump administration. Perhaps next time, Spicer and the White House will remember that much.