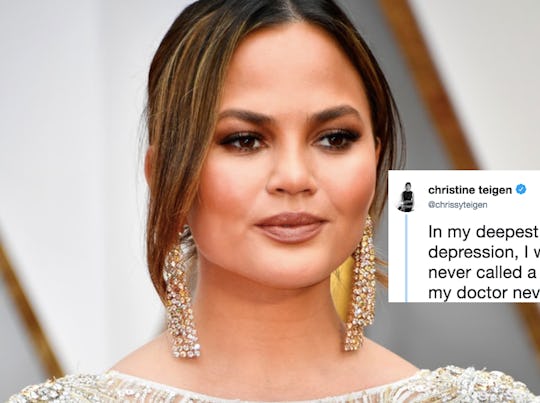 Frazer Harrison/Getty Images Entertainment/Getty Images
Chrissy Teigen's Tweet About Her PPD Following Anthony Bourdain's Tragic Death Is A Must-Read
On Friday, the world learned the heartbreaking news, according to CNN, that chef, Food Network host and bestselling author Anthony Bourdain had died at the age of 61. According to the network, Bourdain died by suicide and was in France at the time of his death while working on his show, Anthony Bourdain: Parts Unknown. Many people have since taken to social media to encourage those struggling with mental illness to seek help, but Chrissy Teigen's tweet about postpartum depression following Bourdain's death raises an incredibly important point about how difficult is often is to actually do so. And in sharing her own experience, Teigen's message illustrates why preventing suicide is often a team effort.
Though Teigen is known for being the hilarious and quick-witted female half of one of Hollywood's most beloved couples, she hasn't shied away from admitting that her life isn't nearly as perfect as it may appear. Nearly a year after the birth of her daughter, Luna, in April 2016, Teigen opened up in an essay for Glamour about suffering from postpartum depression, and it was hugely validating for many moms who had experienced the same thing. But even though she was able to get help for her illness, on Friday, Teigen emphasized that it wasn't nearly as easy as just being told to "reach out for help" or to call a crisis hotline, though those resources do provide a great amount of support. And that's a really valuable reminder that isn't heard nearly as often as it needs to be.
In her tweet, Teigen wrote that she "would have personally never called a phone number" when she was struggling the most, and that she likely wouldn't have even realized she needed help if it hadn't been for her doctor, and her husband, John Legend. And while that might be an uncomfortable truth for anyone who is uneasy with the topic of mental illness or suicidal ideation to hear, it's one that everyone who is serious about wanting to help needs to try to understand.
In a follow-up tweet, Tegien clarified that "the hotline is incredibly important," and that she was just sharing her own experience, and that matters. Crisis phone and text lines can be invaluable, life-saving resources, both providing emergency help as well as access to non-judgemental support. But the truth, as Teigen noted, is that it's not a realistic strategy to think that all we need to do is remind people to reach out. Because, when you're in the grips of mental illness, reaching out yourself just might not be possible.
Instead, Teigen advocated that it's the people who aren't suffering who shouldn't be afraid to speak up and reach out, just as Legend did for her. And it makes a lot of sense: part of being severely depressed and suicidal is often being so ill that you are no longer about to think rationally, as The Guardian explained. Phoning a helpline, or even 911, might not seem like something you're capable of, or it can just seem scary and daunting. Like Teigen, as she shared in her essay with Glamour, it's also entirely possible that you may not even be aware just how much danger you're really in.
Then there's also the uncomfortable reality that, even if you realize you're suicidal, and even if you realize you should tell someone, you just might not want to. As author Abby Norman explained in a Twitter thread Friday, in her suicidal moments, she didn't actually want anyone to talk her out of it, and the notion of reaching out almost felt threatening. If you've never struggled with mental illness that might not make sense. But it's an admission that many people can relate to, and it explains part of why someone who may have seemed to have so much to live for perhaps wouldn't have tried to make what could have been a life-saving call.
What both Teigen and Norman (along with countless other Twitter users opening up about their mental illness struggles in the wake of Bourdain's death) are highlighting is the part of the equation that's so easy to ignore: that the rest of us need to start becoming more comfortable discussing depression and mental illness, and we need to stop being afraid to overstep. It makes sense of course — we don't want to embarrass our loved ones, or make them feel bad, and we definitely don't want to "put ideas in their heads." But according to the World Health Organization, those fears are really just rooted in mental health stigma.
For one, depression might seem deeply complex and impossible to overcome, and it's definitely not easy to watch someone you love suffer. But WHO notes that suicidal ideation is usually "short-term and situation-specific," and that even if you've had such thoughts, it's absolutely possible to get better and live a long, healthy life. What's perhaps most important though is to remember that talking about suicide with a loved one is never going to be a bad idea. At worst? Maybe they'll be annoyed, or think you're overreacting. But if they really are at risk, WHO noted that bringing it up and talking openly about it without judgement "can give an individual other options or the time to rethink his/her decision, thereby preventing suicide."
When someone dies from suicide, their friends and loved ones aren't to blame for not stepping in and saying something — it's still possible to have a ton of loving support, and still succumb to your illness. Yet Teigen's point is that there is still so much we can do to help our loved ones. Call, visit, reach out. Call a distress line yourself if you're concerned about someone's well-being and want some direction. Ask direct questions to the person who is struggling. Drive them to the doctor, or, in a crisis, the emergency room. Mental illness is often far too isolating for the person in pain to be going through it on their own.
Of course, no one ever wants to hear or see that someone they love is struggling. But Teigen's advice could be life saving. As uncomfortable as it might be, speaking up matters.
If you or someone you know are experiencing suicidal thoughts, call 911, or call the National Suicide Prevention Hotline at 1-800-273-8255 or text HOME to the Crisis Text Line at 741741.