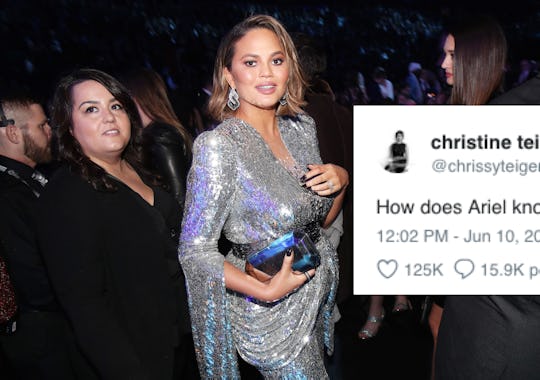 Christopher Polk/Getty Images Entertainment/Getty Images
Parents Will LOL At Chrissy Teigen's Tweets About 'The Little Mermaid'
Kids love Disney films. No matter how old the kids may be or how old the movies are, kids are vulnerable to the charm of Disney princesses and fairytales. Maybe it's the songs, or the storylines, or the fact that they give kids the ability to escape — but whatever the case may be, they can't get enough. But let's be real, kids aren't watching these movies for the realistic elements and plot, especially in films like The Little Mermaid — even if their parents might be paying closer attention than them. Chrissy Teigen's tweet about The Little Mermaid shows that parents who watch Disney films over and over start to get a tiny bit disillusioned with the magical plot lines.
Teigen is now a mother of two young children with her husband, John Legend — 2-year-old Luna and 4-week-old Miles, according to People. So of course she would be well acquainted with Disney films that would allow Luna to be occupied and entertained while Teigen tends to Miles, like The Little Mermaid. While Luna might have enjoyed watching The Little Mermaid, Teigen's tweets about the film's main character, Ariel, show that she had a few problems while watching the film, hilariously pointing out the loopholes. "How does Ariel know what 'reprimand' means but not 'feet'?," Teigen asked her followers on Twitter on Sunday.
These are the kinds of questions that parents need answered.
But the best thing about Teigen's followers is that they were quick to try to help provide theories as to why Ariel might have not known what feet were (I mean, she was born with a mermaid tail, after all). Although one fan tried their best at explaining, another one was quick to defend Teigen and further implore why Ariel would be so confused by feet. "Her bird friend has feet," one follower wrote. "Surely this would have come up." Teigen, of course, thanked them for their help.
Even Teigen tried rationalizing why Ariel would have to know what feet are with one of her followers. "But you can not have something and know what it is," Teigen tweeted. "Ariel, this is very frustrating."
Teigen concluded her argument by tweeting that she knew that talking about the plot holes in The Little Mermaid would cause her to lose followers, which is a pretty fair thing to worry about.
But Teigen isn't alone in her frustrations with The Little Mermaid. In 2015, one fan pointed out that all of Ariel's problems would be solved if she used her knowledge of reading and writing to write Prince Eric a message in the sand, according to BuzzFeed. But Ariel didn't do that and almost had her voice stolen, as well as her entire underwater kingdom destroyed, just for true love. "Crushingly, Ariel absolutely could have closed from moment one and happens to be a moron," the fan concluded, according to BuzzFeed. Based on Teigen's tweets on Sunday, it seems as if she would agree with this statement.
Although Teigen let Luna watch The Little Mermaid, parents have been pretty split in their opinions of the 1989 film. One blogger cited the fact that Ariel gives up her voice in the movie for another man as something that she wouldn't want her daughter to watch or learn from. And while Common Sense Media says that the film is appropriate for kids ages 5 and older, the website states that it's important that parents are aware that the movie places less value on positive messages and a "high value on romance and true love." A representative at Walt Disney Studio's did not respond to Romper's request for comment regarding these criticisms.
Whether parents agree with this or not, Teigen's observations from The Little Mermaid on Sunday really do prove that watching Disney movies as an adult is a lot harder than watching them as a kid. But as a parent, you do what you have to do — and that includes watching or playing the Moana soundtrack 15 times in a row.