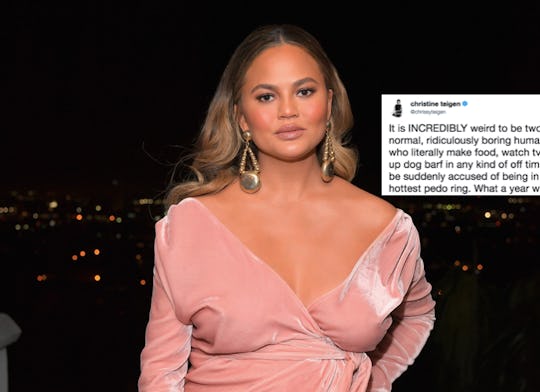 Chrissy Teigen Fights Back After Being Dragged Into A Dangerous Conspiracy Theory About Luna
When you log in to Twitter, there should be a warning sign that states "Beware of Trolls." People will do anything to get a rise or a reaction out of one another, especially celebrities. But the fact is, internet trolling can be dangerous, especially when children are harmlessly dragged into it. Case in point — on Saturday, Chrissy Teigen's daughter was put into the forefront of a dangerous (and widely discredited) conspiracy theory, Pizzagate, by some Twitter users. And Teigen's tweets about Pizzagate highlight just how scary this kind of trolling can really be. Romper has reached out to Teigen's team, but did not hear back in time of publication.
For decades, parents have been warning their children to be wary of every photo and detail they put up on the internet. But in a time when sharing photos and life updates on social media has become second nature, it is almost impossible not to put personal photos and details on the internet.
Teigen knows this to be true after discovering photos of her daughter dressed in certain costumes were being used to back up a conspiracy theory related to pedophilia — and Teigen took to Twitter to let her followers know just how terrifying this discovery was (and rightfully so). "Alright," Teigen wrote on Twitter. "I debated saying something about this but I'm pretty disturbed over here. The fact that there are people with these...thoughts...is really scary."
Twitter trolls are suggesting that Teigen is putting herself into the forefront of this conspiracy through sharing photos of her daughter on social media. This includes dressing her daughter in innocent Halloween costumes, using emojis as hidden language on her social media posts, and you know, just living her life. It is absolutely ridiculous that people would draw these conclusions just from that. Parents will go through lengths to protect their children from all types of harm, especially on the internet, so when people will take a conspiracy theory and run with it, it is particularly scary, especially since there is nothing that parents can do to stop them from thinking these things.
While it might be easy for some people to ignore these haters and trolls, Teigen wrote on Twitter that she was disturbed by these claims (and rightfully so). Her words are so important.
So, what is Pizzagate? While people shouldn't give attention to this ridiculous conspiracy, it is necessary to know the lengths that conspiracy theorists will drag innocent children into, just because they can. Pizzagate is a theory rooted in the 2016 Presidential Election, according to Slate, when Wikileaks released the emails of the campaign chairman, John Podesta, for Democratic Presidential Nominee Hillary Clinton. Podesta "mentioned pizza a few times," in those emails, according to Slate. Instead, conspiracy theorists used this word as code and came to the conclusion that pizza was a "complex code for pedophilia," according to Slate. It is important to note that Pizzagate has been widely discredited, according to Vox, and is entirely fake, especially since there is absolutely no evidence that any of this took place or is taking place.
People immediately came to Teigen's defense, giving her advice about how to deal with the trolls. Chelsea Clinton, for one, provided advice on how to deal with the trolls.
Even with all of the people coming to her defense, this theory was something that Teigen rightfully could not shake. Teigen tweeted about just how ridiculous and upsetting the conspiracy theory was.
Trolling can be incredibly harmful, especially when innocent children are thrown into the mix. After bringing awareness to the issue, Teigen was able to get the account perpetuating the rumors unverified, which is awesome. But at the same time, bringing attention to this is just "feeding the trolls" — or giving them fuel to become stronger. According to Time, a Pew Research Center survey found that a majority of millennials have been the victim of trolling and experienced online harassment. A study found that people become trolls, according to The Independent, based on situational factors like their mood and the people around them.
Because of this, no one is immune from this trolling, including celebrities like Teigen herself. Believing in these theories and giving more attention to them is dangerous, because trolls specifically target people and the things closest to them (like Teigen's daughter).
Internet trolls will continue to believe in these harmful theories — but with the power of a strong support system like Teigen has, she can know that others have her back.