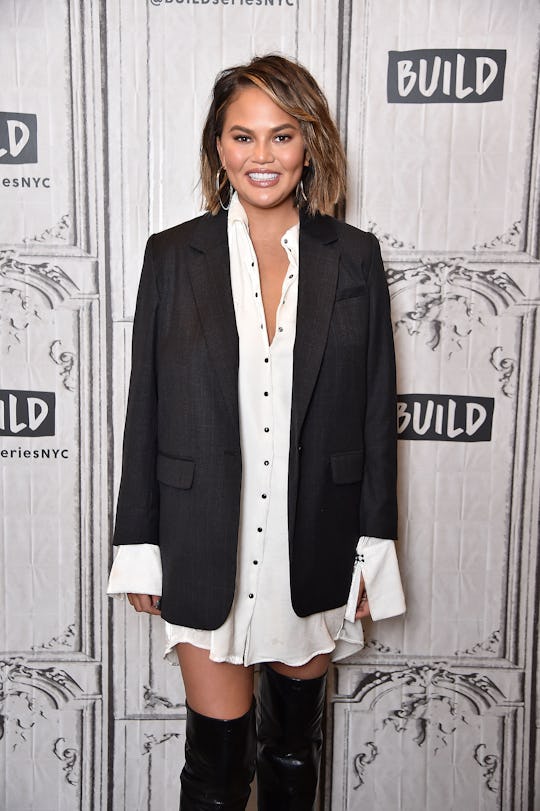 Theo Wargo/Getty Images Entertainment/Getty Images
Chrissy Teigen Is Every Parent When Daylight Saving Time Ends
Chrissy Teigen is aware that weekends with two kids under the age of two can be a bit of a struggle. During the one time of the week where parents can sleep in, kids somehow always want to wake up at 7 a.m. — and daylight saving time makes it so much worse. So, almost all parents will get a kick out of Chrissy Teigen's Twitter video on Sunday, which perfectly captures life with kids when daylight saving time ends.
During the early hours of Sunday morning, clocks in the United States "fell back" one hour because of daylight saving time being over, according to NBC News. This means that until the spring, early mornings will be filled with sunlight, and sunset will come a bit earlier than normal. But it also means that a lot of kids all across the nation woke up a little bit earlier than usual, due to the sunlight slipping through their windows — Teigen and John Legend's 2-year-old daughter, Luna, included.
In a hilarious video posted to Twitter, Teigen — dressed in a towel with her hair pulled in to a messy ponytail and a filter across her face — expressed her frustration with daylight saving time. "The clocks are turning back, that means you'll get more sleep," Teigen said, holding a Cookie Monster cup. "No. I'm celebrating a fake birthday for someone that doesn't exist."
In the video, Luna can be seen in her own little world, taking a bite out of a fake cake.
Teigen looks so exhausted in the video (but somehow still fabulous in just a towel and ponytail) and Luna looks so happy to be awake and attending a "fake birthday party for someone that doesn't exist." Although it is a little unclear what role Luna had in the birthday party or what age her imaginary friend turned, the little girl clearly couldn't be happier to be celebrating. But Luna has the right idea — there's always an excuse to celebrate and through a party — whether it's for a real reason or just "because."
But at the same time, people can't blame Teigen for being a little frustrated. When the clocks fall back, people are supposed to gain an hour of sleep. However, due to Luna's confusion with the time, Teigen still had to wake up early. This is completely normal.
Internal clocks are pretty hard-wired, according to NPR — so when the daylight came an hour early on Sunday, the entire Teigen-Legend household was thrown for a loop. And it's very likely that Luna (and so many other kids) will continue to wake up early for a few more days until she gets adjusted to the light, according to NBC News.
But for the next time that happens, Teigen can have her family super prepared to combat these feelings of exhaustion. Believe it or not, but parents can do their best to prepare their kids for the time change, according to Parents — which involves shifting their bed time before daylight saving time (so they get plenty of sleep) and being sympathetic to their early mornings.
Judging from Teigen's Instagram posts on Sunday, she grew out of that exhaustion quickly.
Right after Teigen shared her video about daylight saving time to Twitter, she posted the most adorable photos of Luna and 5-month-old son Miles to Instagram. In the photos, Luna and Miles can be seen all dressed up, looking super happy to be awake and get the day going.
It's like daylight saving time didn't even have an impact on them.
Daylight saving time in a house filled with little kids can be rough — and Teigen's video serves as a reminder that it's rough for even the most glamorous celebrities. But the good thing is, households (including Teigen's) should be back to normal within a matter of days once everyone is able to get adjusted to the change in time.