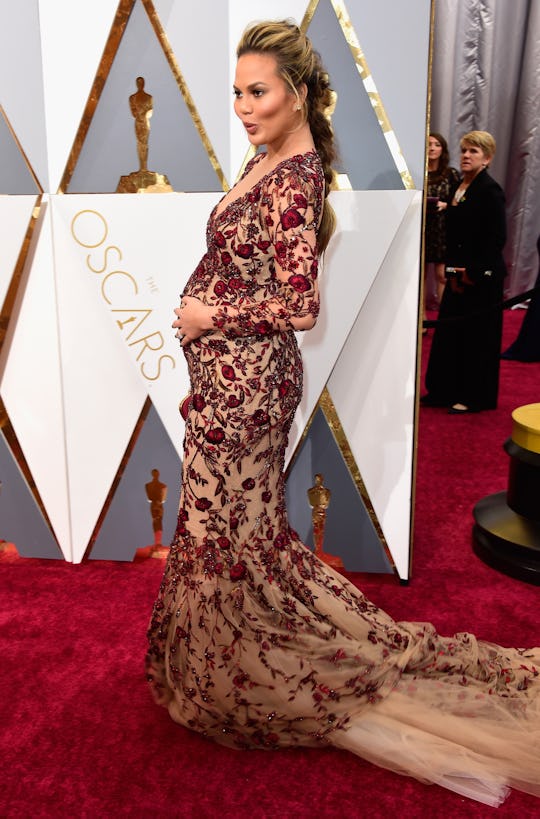 Frazer Harrison/Getty Images Entertainment/Getty Images
Chrissy Tiegen Says She Definitely Wants To Have More Children
Most people really didn't need any more reasons to love television personality and supermodel Chrissy Tiegen. Even before she started sporting that adorable pregnancy bump, Tiegen seemed like the kind of down-to-earth, totally real celeb you'd actually want to hang out with. And, now that's she's pregnant, she's brought all that realness to talking about fertility and family building — and it's wonderful. This week, Self magazine released a cover profile on Tiegen slated for the magazine's April edition. In it, 30-year-old Tiegen said she will have more children, and, despite the difficulties she and husband John Legend faced along the way, that she plans to be pregnant for most of the next 10 years:
I think I'll probably be pregnant all through my 30s. I've always pictured everyone around the table for the holidays and together once a week. It'll be heartbreaking if it doesn't end up happening, but hopefully it will.
In the feature, expected to hit newsstands on March 15, Tiegen also said that, in her ideal picture, her family would grow by at least three more people over the next few years:
Four is good, I think. And then, maybe a dog after. I hope that when we do have those four kids, John and I can look at each other and know that it's us against them. We are going to love the sh*t out of our kids, but we are going to team up and fight in pairs!
Tiegen and Legend announced their pregnancy in October of last year in a beautiful and candid Instagram post that hinted at the couple's struggle with infertility. In a Twitter post last October, Tiegen confirmed that they conceived after in-vitro fertilization. Since then, Tiegen has been refreshingly honest about the emotional process of building a family and unapologetic about the choices she and Legend have made along the way.
In her interview, Tiegen talked about rigorous process of shots, doctor visits, and tests as part of IVF, as well as the emotional toll that fertility treatments had on her and Legend:
The big question was why this wasn't working for us when I was young and he was healthy. I thought, people get pregnant by accident all the time! How does this happen? Emotionally, it could be really hard. When you have these high-highs and low-lows, and you're, like, cuckoo pants.
Between the couple's honesty about their struggles to become parents, their almost-palpable excitement to finally be expecting, and her so-real comebacks to strangers' advice about "the right way" to do pregnancy, it's no wonder why Tiegen and Legend are everyone's faves. When she isn't getting excited about huge hunks of cheese, or shutting down random haters online, she's fantasizing about the great dad her husband will be and throwing massive princess-themed baby showers.
Tiegen is definitely the pregnant BFF I want to hang out with. And it looks like she's planning to hang out with us pregnant ladies for a while longer. Yay!