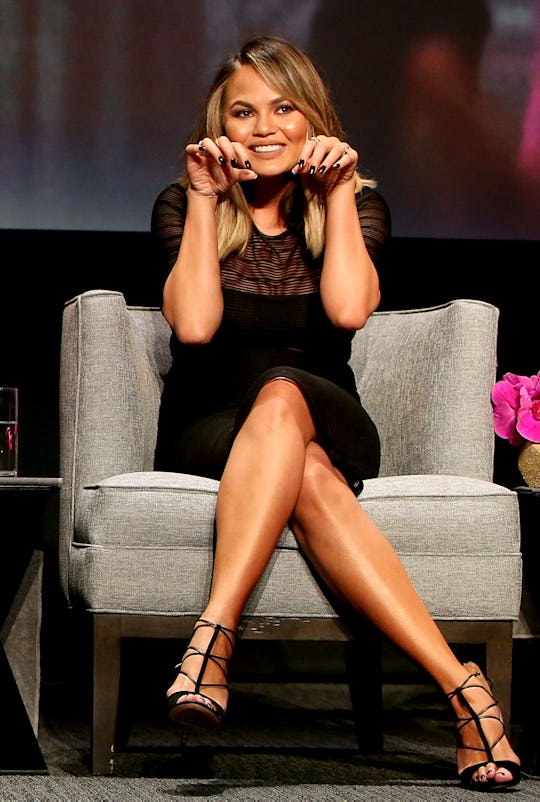 Rachel Murray/Getty Images Entertainment/Getty Images
Chrissy Tiegens's Latest Instagram Raises A Breastfeeding Question For Moms Everywhere
As a dedicated Instagram user, I nominate Chrissy Teigen for queen of the best Instagram posts ever. Chrissy Teigen's latest Instagram post raises a breastfeeding question for moms everywhere, in addition to just being LOL-worthy. While in Disney this weekend, the model and new mom posted a shot of her, husband John Legend, and crew on a ride. While everyone has the standard "holy crap, we're going down" roller-coaster face on, Teigen is clutching her breasts and captioned the photo "MY MILK." Because like every other new, breastfeeding, mother, no one wants gravity and velocity to combine to waste your breast milk.
Because leakage is very real. Many commenters on the post were rolling with laughter and cry face emojis. "I remember those days," one commenter wrote. Of course, it's not breast milk is going to shoot out of her boobs (although, that would be bother an interesting and offensive female superhero trait, to be sure) but the sensation of leakage is something all new moms deal with. According to Babycenter, most leakage occurs in the early weeks before you have a good routine down and their best coping strategy to public leaks is to "have a sense of humor." Teigen certainly has that down, easy.
What's especially hysterical about the post is wondering if Teigen planned on grabbing her chest as she and John flew on the ride or if that was just her instinctive reaction on her way down. Given how sensitive her boobs must be from breastfeeding, it's likely she just needed a little extra support on the ride. Either way, it's a solid social media moment. And she is far from shy about her breastfeeding misadventures.
But Teigen has also been known to plan her Instagram and Snapchat adventures. Just a few weeks ago, she was intent on punking her Twitter haters at game one of the NBA Finals. Legend was performing the national anthem and she had posted a picture of her and baby Luna watching soundcheck. Immediately — because of course — Twitter followers began chiding her for bringing the delicate infant to such a loud place. She left Luna with a sitter in their VIP suite for the game, but not before trying, and documenting on Snapchat, to bring a fake baby to her court side seats and get Twitter followers all riled up. In the Snapchat video, Legend just laughs quietly in the background. Seriously, they have this celeb-parenting thing down.
Whether or not she planned her punchline, though, is totally besides the point. Teigen continues to rock this parenting thing. So actually, I take everything back: I nominate her for Instagram Queen and new mom role model. Because if you can't laugh about leaky breasts, you have a major problem.