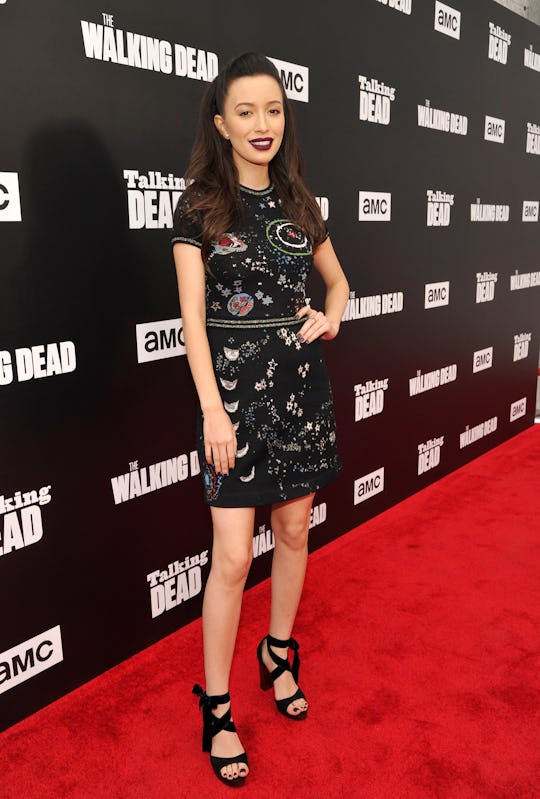 John Sciulli/Getty Images Entertainment/Getty Images
Christian Serratos Is A Mom!
Mother's Day is already a special day for everyone, but for Walking Dead fans, the day has gotten much sweeter. On Sunday, Walking Dead star Christian Serratos shared a surprise baby photo of her first child — and given that most people had no idea she had even given birth already, it was an exciting moment, to say the least.
The announcement came out of left field, which made the announcement's timing, done on Serratos' first Mother's Day, all the more special. Not many people saw this coming, as it was only confirmed just in March, according to E!, that Serratos was pregnant. It was then that a representative for Serratos confirmed the very exciting news that she was expecting her first child with her boyfriend of three years, New Politics singer, David Boyd. And now, just two months later, Serratos' and Boyd's brand new bundle of joy is here — and the baby could not look any sweeter. "Happy Mother's Day from little W and me!" Serratos simply said in the announcement, posted to her Instagram page.
This announcement is excellent news — but there are so many questions left unanswered and a lot of information to be desired — such as the baby's first name, sex, and when Serratos actually gave birth (she didn't specify when the baby was born).
Serratos was still pregnant around late April, according to E!, which means her baby can't be more than a few weeks old. While the details surrounding Serratos' baby are hazy, the same was to be said for her pregnancy. Serratos didn't share many photos of her pregnancy on her Instagram (with the exception of two photos posted to Boyd's Instagram account). Yet, in spite of her private nature, a source told People that the couple was doing well, shortly after announcing that they were expecting. "[Serratos and Boyd] are extremely happy and have been looking forward to starting a family," the source said.
As a new mother, Serratos can take some of the lessons learned while playing her Walking Dead character, Rosita, and put them to use in her newest role as a mother. "I'm learning from her," Serratos said during a PaleyFest panel in March. "I think she has really great things to teach me. She's remarkably brave, and we're seeing that this season."
The new baby, with its full head of brown hair, could not be any cuter from what Serratos has showed. While there is still so much about "little W" that fans are dying to know about (including myself), it's best that people respect Serratos' and Boyd's privacy at this time. Especially since they were so private leading up to and after the baby's birth.
Congratulations and a very happy Mother's Day are in order for this new mom.