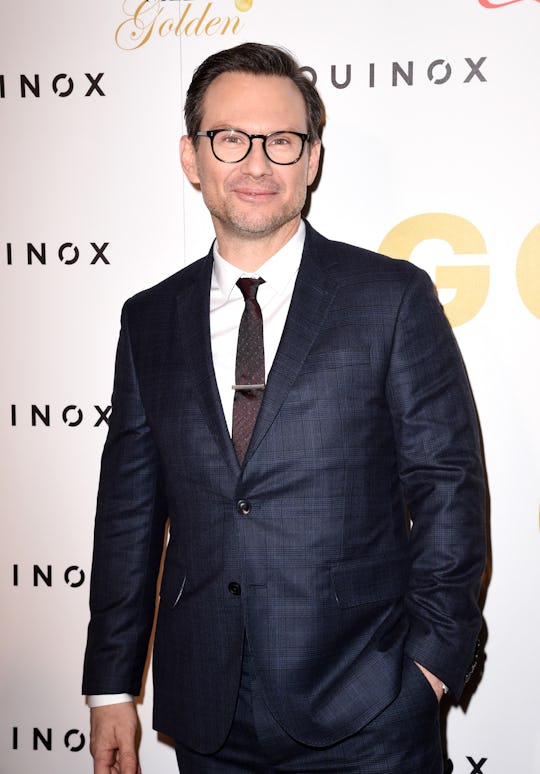 Emma McIntyre/Getty Images Entertainment/Getty Images
Christian Slater Is All Of Us At The Globes
For every Game of Thrones actor passed over for an award or anytime Westworld was featured in an awards category at the 2017 Golden Globes, there are tons of fans rolling their eyes or yelling at their TV screens. Which is why it's so perfect to have the Christian Slater memes from the Golden Globes help to embody everyone's emotions as they've watched each winner announced. Slater's scrunched up and totally confused face came about during Tom Hiddleston's Golden Globes speech. And whether the facial expression was because Slater totally agreed with Hiddleston's retelling of an experience in South Sudan or if the actor was just totally confused by what Hiddleston was trying to say in that moment, Slater's face is an awesome face.
Hiddleston's acceptance speech for a Golden Globe award for his role in The Night Manager centered around a recent experience of his in South Sudan, where he said some of the aid workers had told him about binge watching The Night Manager and how it had helped them. And, Hiddleston said, because of that, he was happy to have provided some sort of relief, even if it was through his entertainment. It might have been a little weird, but Hiddleston did go on to explain how important humanitarian work is and that's something, right?
Of course having good intentions behind Hiddleston's Golden Globes speech doesn't really matter when it comes to the internet, though. And Christian Slater memes that stem from his reaction during that moment are kind of amazing, and in a way, we have Hiddleston to thank for them.
Maybe Slater's super concentrated expression is just about being super intensely interested in what Hiddleston is saying and he's not trying to figure out what's going on during the acceptance speech. That's possible, right? Hiddleston has been vocal about his work with Unicef for a while now, so taking the opportunity to bring it up during his Golden Globes acceptance speech is really no surprise — even if it was kind of like a pat on the back for himself and an inadvertent shout out to The Night Manager.
Giving Hiddleston the benefit of the doubt with his Golden Globes speech, it's kind of amazing that it birthed the Christian Slater memes heard around the internet. We now have a new face to go along with disappointments, confusion, and the kind of concentration that can only be described as that which you have when trying to stay awake.