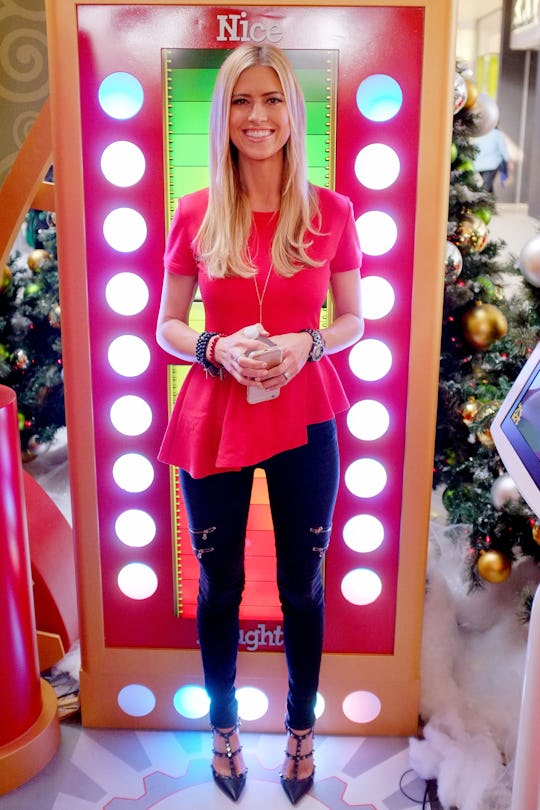 Jerod Harris/Getty Images Entertainment/Getty Images
Christina El Moussa Shut Down Mom-Shamers
Christina El Moussa is most well-known for her show on HGTV, Flip or Flop, where she and her ex-husband Tarek go on adventures in real estate to find and renovate homes. El Moussa, who handles the designing (or redesigning) portion of the show, also shows off her own home via her social media from time to time. But a recent photo she posted caused a bit of a stir amongst her fans. Christina El Moussa shut down the mom-shamers on her Instagram, proving that even famous parents aren't immune to criticism.
El Moussa posted a photo to her Instagram that featured her children, Taylor, 6 and Brayden, 1 playing poolside at their home. According to El Moussa's caption for the photo, the kids were having a slumber party with friends ("6 kids, a dog and two moms" El Moussa wrote). Several people began commenting on the photo expressing concern for the safety of Brayden, who appears to be near the edge of the pool as he watches his sister and her friends play. User luvmyhub3 commented on the photo saying: "No one is a hater, but as a mother it is scary to have a toddler being that close to a pool!"
Editor's Note: The Instagram post has since been deleted.
El Moussa replied directly to the comment, according to E News!:
OMG 1. It's a beach entry if he fell in it's only a foot high, he would be ok 2. It's not his first time in or around the pool,but thanks for your "concern" aka judgment 3. AND most importantly I am right there and could be to him in 3 seconds SMH at this .....!!!!
Other people commented with their concerns, too, but El Moussa didn't respond to them individually. It wasn't actually the first time internet mom-shamers had criticized El Moussa last week: she had also been criticized for a series of photos she posted of herself and Taylor wearing bikinis, according to People. In that instance, too, many of her fans came to her defense and called for an end to the mom-shaming.
El Moussa is also hardly the first or only celebrity parent to get shamed by the internet: Chrissy Teigen has had her fair share since giving birth to daughter Luna. Some people on the internet went so far as to accuse Kristin Cavallari of starving her son after she posted a photo of him on the beach. Even the media gets in on it sometimes, like when OK! Magazine published photos of Charlize Theron and her son that made it like she was "dragging" the 4-year-old.
While it's easy to be critical, parenting is not an easy task. Even for celebrities — or even an actual princess, like Kate Middleton — there will always be someone who disagrees with your choices. In the age of social media, everyone's parenting decisions can come under scrutiny in real-time. But it's important to remember that as long as your family is healthy and happy, it doesn't matter what the internet thinks.