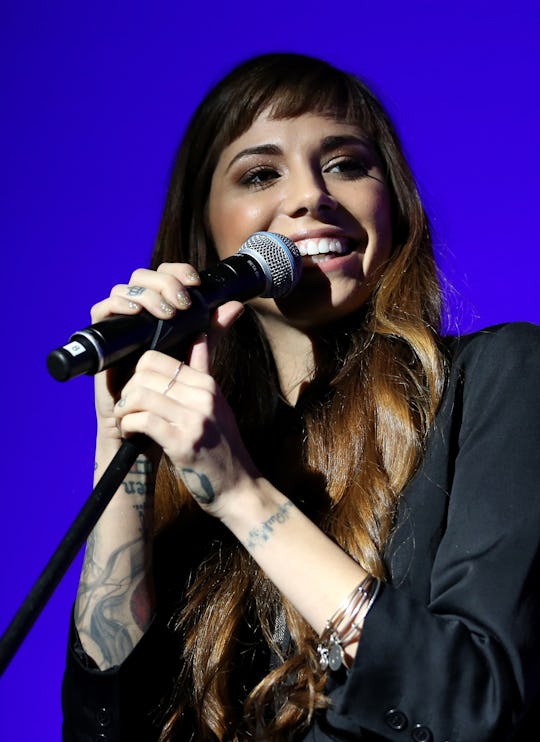 Chelsea Lauren/Getty Images Entertainment/Getty Images
Christina Perri Announces The Birth Of Her First Child With The *Sweetest* Family Photo
One more admired celebrity has officially become a mom! Revealing the exciting news on Wednesday, "A Thousand Years" singer Christina Perri has welcomed her first child with her husband Paul Costabile. Perri's incredibly exciting milestone was captured and announced, of course, on Instagram. Perri's husband took to his Instagram account where he announced the happy news, just hours after it happened (he worked fast).
"The greatest gift we've ever known!!! Welcome to the world Carmella Stanley Costabile born today," Costabile wrote in the caption of the photo. "Mom and our little principessa are doing great. Dad can't stop crying!"
In the black and white photo, Perri has the most gorgeous, widest smile on her face, while Costabile and baby Carmella look dotingly at the new mom. The newborn baby looks incredibly happy and at peace in this world with her mom and dad. For someone to have written such beautiful songs like her hit, "Jar of Hearts," they must need some serious inspiration. Carmella's birth can definitely provide Perri some inspiration, especially considering how incredibly happy Perri looks in the photo.
This is not an awful way to kick off this new year, especially since 2017 was such a huge year for Perri. How big was it? It was huge. Perri and Costabile got engaged, first, in June, after Perri announced the news on Instagram, where she shared a photo of her gorgeous ring. In August, the couple announced they were expecting their first child together, also in an Instagram post (are you sensing a pattern here?). Perri made the announcement with the help of her niece, Tesla, according to People, showing that Perri was more than ready to expand her family. Then came their wedding in December, where they said their "I Do's" at City Hall in New York City, according to The Knot, which just so happened to be on the exact same day when they first met four years ago. If that doesn't sound like a wild year to you, I don't know what else will.
But in between all of the moments in her hectic life, Costabile was still able to make the time to talk openly about adding a new addition to their family, which is definitely something that fans could appreciate. In December, Costabile told People that they had made the decision to keep their baby's sex a surprise and were waiting to be surprised. Costabile also revealed that the baby's name (and nickname) would have an Italian influence as an homage to the couple's individual Italian upbringings. "No matter what the name, we'll be saying bambino or bravo, no matter what," Costabile told People in December.
The name Carmella certainly accomplishes that. Carmella, spelled with two "L's", is of Hebrew origin, according to BabyCenter, and means "garden" or "song." But the name Carmela, spelled with one "L," according to SheKnows, has Italian roots, and also means "garden." Knowing this, the couple's own personal take on the name, which is connected to their heritage, makes the name so much more special.
But if it wasn't for Costabile, or Perri's Instagram and Twitter accounts, fans would be left out of the loop on Perri's pregnancy (she hasn't given many interviews since announcing that she was pregnant). But while she might not be giving many interviews these days, those who follow her Instagram and Twitter accounts have been kept in the loop. Over on Instagram, Perri had been documenting the size of her bump leading up to the baby's birth (and shared some incredibly adorable short videos, documenting her pregnancy, which she released last week). Meanwhile, on Twitter, Perri had been sharing her thoughts on all things, including her pregnancy.
But now that their baby is here, fans can look forward to baby updates (not bump updates) from both Costabile and Perri — which is even more exciting. Congratulations to the couple and new parents!
Check out Romper's new video series, Romper's Doula Diaries:
Watch full episodes of Romper's Doula Diaries on Facebook Watch.