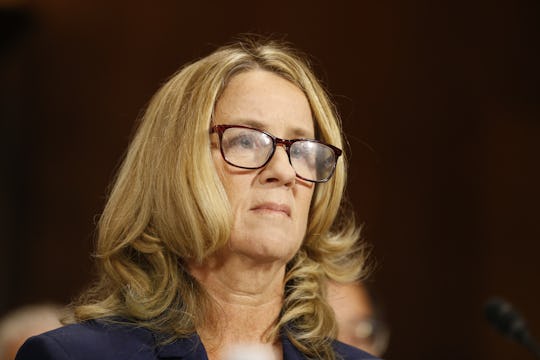 Pool/Getty Images News/Getty Images
Christine Blasey Ford's Heartbreaking Testimony Has Been Released In Full
History is repeating itself: on Thursday, the Senate will hear from a woman who has accused Supreme Court nominee Brett Kavanaugh of sexually inappropriate behavior. But you don't have to wait to hear Christine Blasey Ford's testimony, because her attorneys have released her prepared remarks in full, and the picture they paint is absolutely harrowing. Please note that Dr. Ford's testimony is very detailed and could trigger people who have experienced trauma in their own lives.
Ford, now a professor with two Masters' and a PhD, attended an all-girls school in in Bethesda, Maryland in the early 1980s. On weekends and during the summer, she and her classmates would frequently attend parties with students from the all-boys schools in the area. It was at one of these parties that she claims Kavanaugh attempted to rape her.
One night in the summer of 1982, Ford wrote, "after a day of swimming at the club, I attended a small gathering at a house in the Chevy Chase/Bethesda area." She expressed remorse for not being able to provide a more detailed account of the event, such as the address and a full list of attendees (she did name four, Kavanaugh included), and continued: "But the details about that night that bring me here today are ones I will never forget. They have been seared into my memory and have haunted me episodically as an adult."
When Ford arrived at the house in the early evening, she plans to testify, she observed that Kavanaugh and his friend, Mark Judge, were already "visibly drunk." When she went upstairs to use the restroom, she claims, she was pushed from behind into a bedroom. Kavanaugh and Judge then entered the room, she wrote, and locked the door. Her words, obtained by CNN:
I was pushed onto the bed and Brett got on top of me. He began running his hands over my body and grinding his hips into me. I yelled, hoping someone downstairs might hear me, and tried to get away from him, but his weight was heavy. Brett groped me and tried to take off my clothes. He had a hard time because he was so drunk, and because I was wearing a one-piece bathing suit under my clothes. I believed he was going to rape me. I tried to yell for help. When I did, Brett put his hand over my mouth to stop me from screaming. This was what terrified me the most, and has had the most lasting impact on my life. It was hard for me to breathe, and I thought that Brett was accidentally going to kill me. Both Brett and Mark were drunkenly laughing during the attack. They both seemed to be having a good time. Mark was urging Brett on, although at times he told Brett to stop. A couple of times I made eye contact with Mark and thought he might try to help me, but he did not.
Eventually, Ford alleged, Judge jumped on the bed and the three of them "toppled over," allowing her to escape. After locking herself in the bathroom, she wrote, "I heard Brett and Mark leave the bedroom laughing and loudly walk down the narrow stairs, pin-balling off the walls on the way down." She waited a while to make sure they weren't coming back, she said, and then fled through the front door, into the street. Throughout her life, Ford will testify, this incident has caused everything from panic attacks to marital spats over a home remodel; having never disclosed her assault to anyone, she explained, nobody could understand why she was so insistent on a second exit from her house.
And Ford isn't Kavanaugh's only accuser. A second woman, Deborah Ramirez, alleged to the New Yorker that back in their college days, the eventual federal judge "thrust his penis in her face" as she lay on the floor, drunk to the point of slurring. "Brett was laughing," she claims. "I can still see his face." She even remembers hearing another young man allegedly shouting, "Brett Kavanaugh just put his penis in Debbie's face."
A third accuser, Julie Swetnick, said that she also attended many of the same house parties that Ford referred to, and her recollection of them reveals a disturbing pattern of behavior, wherein, she claims, Kavanaugh and Judge would "consistently engage in excessive drinking and inappropriate contact of a sexual nature." That contact, which she detailed in a statement obtained by CNBC, included everything from alleged crude remarks to allegedly drugging women and gang raping them. "I have a firm recollection of boys lined up outside rooms at many of these parties waiting for their 'turn' with a girl," Swetnick said in her sworn statement. One of those girls, she claims, was her. She stated she believes she was drugged with Quaaludes.
It's important to remember that for many — if not most — victims of sexual assault, talking about the incident means reliving it, and that can be incredibly painful. That's certainly the case with Ford, who wrote in her testimony that she avoided telling anyone for decades, and still prefers not to discuss it, even in therapy. But for the good of her country, she came forward. Now, she wrote, "My family and I have been the target of constant harassment and death threats." Her personal information has been posted online, and her work email hacked. "My family and I were forced to move out of our home," she wrote. "Since September 16, my family and I have been living in various secure locales, with guards."
Dr. Ford deserves nothing but our gratitude and respect.