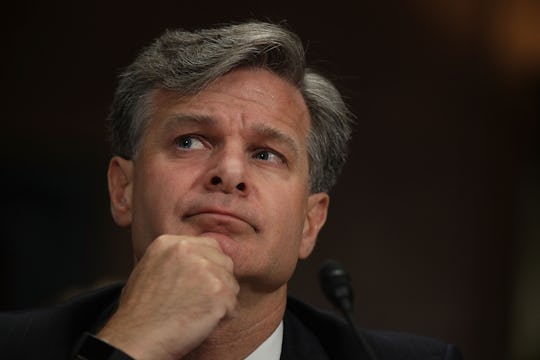 Alex Wong/Getty Images News/Getty Images
Christopher Wray Is Officially The New FBI Director
Tuesday, the United States Senate finally confirmed a replacement for James Comey, who was fired by President Trump in May. Christopher Wray's senate confirmation comes after Donald Trump originally nominated him via Twitter in June. "I will be nominating Christopher A. Wray, a man of impeccable credentials, to be the new Director of the FBI," Trump announced. "Details to follow," he concluded the June 7 tweet. An as interesting as it is that so much important information from the White House is coming to the American public via Twitter, Wray's confirmation is also pretty interesting.
Wray was confirmed with a 92-5 vote on Tuesday, Politico reports, and much of the support surrounding his confirmation had to do with his promise to stay out of politics. "Wray repeatedly pledged during his confirmation process that he would not bend to Trump, who, according to Comey, had asked the then-FBI director for a loyalty pledge," according to Politico. However, Wray is still a Republican, and has previously served at the Department of Justice "under President George W. Bush from 2003 to 2005," Fox News reports.
So, can he keep his promise to remain loyal to his country, and not his party? That much remains to be seen.
At Wray's previous confirmation hearing in July, he told Senators, "I will never allow the F.B.I.'s work to be driven by anything other than the facts, the law and the impartial pursuit of justice. Period." Certainly, Wray has worked hard to get to where he is now, although at least five Democrats remain skeptical that he will resist any pressure from Trump expecting "loyalty," a lá James Comey.
As The New York Times reports, after Comey's firing, the FBI has been under the leadership of "Andrew G. McCabe, the acting FBI director, whom the president has attacked repeatedly." It's still unclear as to whether or not Wray's confirmation will result in McCabe's leaving of the bureau.
For now, though, it seems to be almost unanimous that Wray's confirmation isn't as political as other Trump appointees. Hopefully, that means that Senators on both sides of the aisle are confident in his ability to do Comey's job right. Comey was in the middle of a serious investigation into a threat of American democracy: to determine if the Trump campaign colluded with Russia in the 2016 presidential election. To Comey, there was "no fuzz" about the fact that Russia colluded in the election.
Hopefully, Wray will finish Comey's work with integrity, honesty, and a sense of loyalty to his country, not his president.