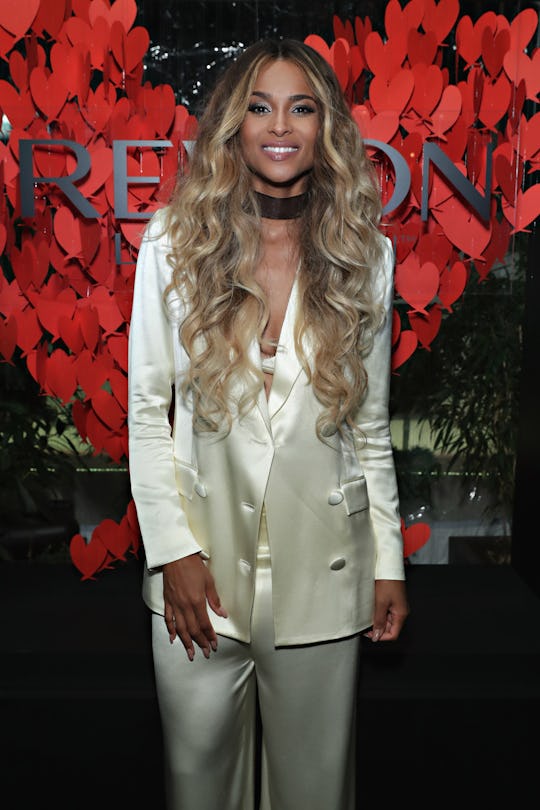 Cindy Ord/Getty Images Entertainment/Getty Images
Ciara Announces She Is Pregnant, & Her Reveal Is The Sweetest
Ciara has definitely had a lot to celebrate lately: she and her new husband, NFL quarterback Russell Wilson, tied the knot in July in a super-romantic ceremony in a castle in England, and on Tuesday, the singer also turned 31. But her birthday wasn't even the most exciting part about the day. That's because Ciara announced she is pregnant in a post on Instagram, and honestly, her reveal was totally the sweetest. In the black and white shot, Ciara and Wilson can be seen cuddling together, both of them cradling her stomach. In the post's caption, Ciara wrote,
On this special Birthday I received an abundance of love from friends and family.. and I'm excited to Finally share one of the Greatest Gifts of All that God could give... 👶🏽🍼💃🏽☺️❤️
Ciara's followers were unsurprisingly totally thrilled at the news, and according to Us Weekly, many had even been anticipating the announcement, after rumors had recently begun to swirl that the singer was expecting. The new baby will be the couple's first child, and the second child for Ciara, who also has a 2-year-old son, named Future Jr., with her former partner, rapper Future. Dad-to-be Wilson also shared the photo on his own Instagram account, along with the caption, "The Greatest Blessing of All. Forever Grateful. #BabyWilsonOnTheWay."
The newlyweds definitely didn't wait long before starting a family, but given that they've both been open about wanting children together, that's also no surprise. According to E! News, Ciara said last year that she "definitely" wanted more children, and Wilson has reportedly said he wants "two to three children" himself.
Of course, the couple is already used to life as a family, given that they're raising Future Jr. together. According to People, Wilson recently spoke about step-fatherhood in an interview with Maria Shriver, and said that his step-son is "awesome and cute as can be, he's a special kid." He also explained that he takes his role in Future Jr.'s life very seriously, telling Shriver,
The important part about loving somebody — especially as a man, being a stepfather in a situation where it's a little bit different, you know, for sure — but ultimately, it's about loving the child because the child has the opportunity to do something amazing in his life.
Ciara and Wilson may not have been married long, but it definitely sounds like it's agreeing with them so far. As Ciara told E! News,
Married life is the best life. It's definitely life-changing, and you do feel a difference between the stages of being boyfriend and girlfriend to being engaged to actually being married. You feel the definition of what 'being one' is, and it's really cool. Nothing compares to what this feels like.
It's pretty clear that this super loving couple is totally psyched at the prospect of becoming parents, and if their sweet current family of three is any indication, they're going to be one adorable brood of four once their baby arrives. Something else fans can probably bet on? Even more gorgeous Instagram photos to come that will be total #familygoals.