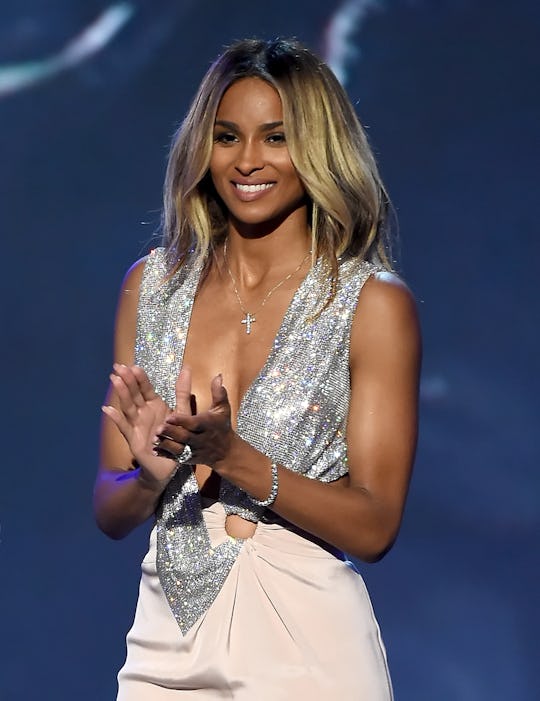 Kevin Winter/Getty Images Entertainment/Getty Images
Ciara Instagrams Her Son Swimming, & It's Adorably Exciting
While some people can't stop sweating in this blazing summer weather or are hibernating in the icy air conditioning, others are being a bit more adventurous and having some fun in sun. On Friday, Ciara posted an Instagram video of her son swimming and captured the adorably aquatic moment of her little one splashing in the pool without the pop star mom's help. In the video, two-year-old Future Zahir giggles as he makes his way around the pool back to Ciara, while wearing bright orange floaties and a matching rash guard top.
"Today Juicy Man wanted to swim without help," Ciara captioned the video posted on Instagram. "So sweet! My Angel Baby." Throughout the video, the proud mama cheers on her toddler. "Whoa! Swim to mommy, swim to mommy!" she says to Future as he kicks towards her. "C'mon! C'mon!"
"You swam to mommy!" Ciara proudly says after he swims to her all on his own, as the tot giggles with excitement.
The 30-year-old pop singer welcomed her little boy to the world in May 19, 2014 with her former fiancé Future, a rapper who has worked with artists such as Drake. They called off their engagement just a couple months after their son was born.
Ciara got married earlier this month on July 6 to Seattle Seahawks quarterback, Russell Wilson.
Before they tied the knot, the all-star couple revealed that they made a commitment to abstain from sex until they were married for religious reasons. "It's until the deal is sealed!" Ciara told Access Hollywood last year when asked if they were serious about their vow of celibacy. "Absolutely."
Despite their very public abstinence plans, rumors that Ciara was pregnant quickly made their way across social media after a photo of the singer performing sparked baby bump speculation last year.
Ciara quickly addressed these pregnancy rumors that had been floating around with The Russ Parr Morning Show. "You know, it's so funny. I might have had a cheeseburger a little too close to showtime," she told the morning show. "[My stomach] was not that big, they exaggerated that … I'm not carrying anything in my belly but great food."
There might not have been a baby in the mix back then, but Ciara has revealed previously that she would like to grow her family.
"I definitely [want more kids], yes," the pop star mama told People last September. "[Russell and I] discuss a lot of things … a lot of good things!"
As for motherhood, Ciara has previously said the new role makes her feel "fearless" and, after her first engagement, she decided to focus entirely on her son.
"There's something about having a child and knowing that you're responsible for someone else that gives you an extra pep in your step and also defines the reason of why you do what you do," Ciara told E! News about motherhood. "Not only because I love it, but I also have someone to take care of. My son is my world, he means everything to me."